CricHeroes Awards 2022: The First-Ever Awards Recognizing Grassroots Talent
February 1, 2023
CricHeroes is a big advocate of grassroots cricketers. Since our commencement in 2016, we have left no stone unturned to celebrate local cricketers in India and across the globe. And acknowledging growing talent and dreams through national-level awards was the least we could have introduced.
And after much brainstorming and collaborative decision, we decided to launch the CricHeroes Awards, which celebrated local cricket performances around the year. This will be the second time we will be hosting these awards.
What was CricHeroes Awards 2021 all about?
The awards in 2021 happened with a lot of fervour and our main focus that year was to #CelebrateDreams. Dreams of people who have played exceptionally well and the community that has worked hard around the year. True to its name, the ceremony was carefully designed to acknowledge and propel the dreams of passionate grassroots cricketers. Because a little motivation today can go a long way to boost confidence and help young talents aim for the sky.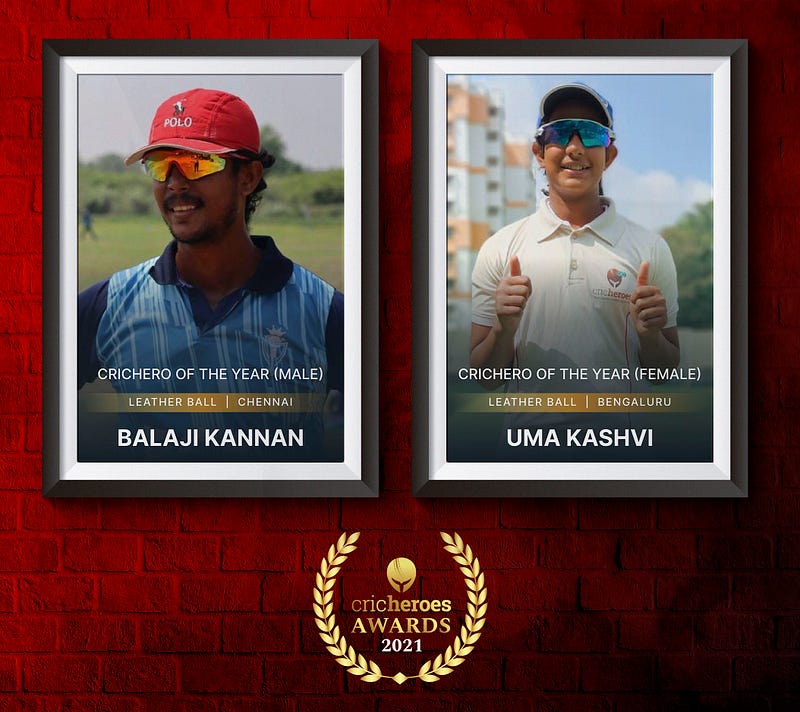 Last year, around 40 winners bagged the highly-decorated CricHeroes awards in 30+ categories across batting, bowling, fielding, and wicket-keeping, in both leather-ball and tennis-ball cricket. An unbiased decision was made to recognize all emerging, veteran, and state-wise best players.
Awards 2021 successfully unveiled star players from at least 17 cities in India. Balaji Kannan of Chennai and Uma Kashvi of Bengaluru bagged the most honorable CricHero of the Year (Male) and CricHero of the Year (Female) titles respectively. Both Balaji and Uma had won the most number of Most Valuable Player (MVP) awards in Leather-ball cricket. Balaji also received the CricHeroes Fielder of the Year prize for impacting a total of 188 dismissals in 368 games with 161 catches and 27 runouts to his name.
How did we choose the winners?
Choosing the winners wasn't the most taxing job for the committee, thanks to the accurate insights generated by the CricHeroes app, the process became a tad easier.
However, to ensure 100% sanctity of the decision, our team took some conscious efforts to identify and get rid of garbage data. We evaluated;
Only legit scores from 2021.
Got rid of fake profiles, players, and matches.
Only verified players on CricHeroes.
Matches hosted on decent size ground with over-arm bowling.
Despite algorithm-level verification, we manually verified the scores. We didn't shy away from getting in touch with respective organizers, captains, opponents, and peers to confirm the winning data.
How did we host the award ceremony?
CricHeroes conducted the prize distribution ceremony on 29th January 2022, virtually.
The ceremony was hosted by the incredibly talented television host and cricket commentator-Jatin Sapru, who hosted the best cricketing performances with as much energy as his television events.
The winners received a specially designed trophy and a personalized t-shirt which they could flaunt proudly in their matches.
To add the cherry on the cake, winners received earnest compliments and good wishes from renowned names in the cricket arena- John Buchanan, Snehal Pradhan, Hanuma Vihari, and talented author Sharda Ugra.
It's 2023, what do we have lined up this year?
After hosting a fantastic and highly praised event in 2022, there was no turning back. Players, authorities, and several affiliated members of CricHeroes saw a bigger purpose beyond the awards–additional validation of every player's talent and skill set.
We are perfectly aligned with their intention and ready to conduct…drum roll, please…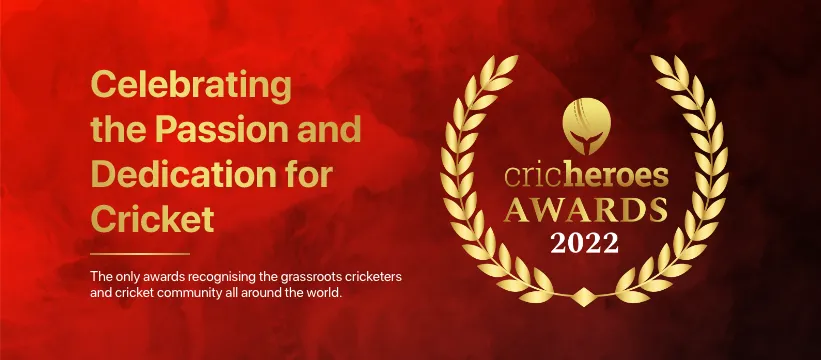 Yes, you heard that right! More categories, more winners, and better prizes.
And that's not all! Last time was our first time distributing these prestigious awards at the national level but this time will be better and bigger.
85+ winners will get awarded for their consistent performance in 2022. Winners will get selected from over 17 million players registered with CricHeroes.
We are not only scaling by the number of winners, but also by categories. Put your seat belts on because we are going International this year!
Players will be evaluated against international-level grassroots cricketers.
And that's just one part of the good news. We have special categories to recognize female players(registered on CricHeroes app) as well.
Although CricHeroes has formalized talent recognition by acknowledging exceptional performances daily on the app, using the insights from Leaderboard. Yet, awards do have their charm.
So, hang on tight for our next series of announcements disclosing the details of CricHeroes Awards 2022. Stay tuned for more!