CricHeroes' Dynamic Live Scores: Keeping you in the game, anywhere, anytime.
October 3, 2023
Imagine this, it's a Friday evening, and you're all hyped up for your team's upcoming match. But oh no, you find yourself stuck in an endless meeting with no escape.
But with our new update – you just need a sneaky glance at your lock screen and you instantly know how your team is performing!
(Just make sure you don't jump out of your seat after the 1st wicket 😉 )
Introducing Dynamic Live Scores by CricHeroes.
Live Activities take the spotlight on your iPhone, making it the ultimate companion to keep you updated on the matches that truly matter to you. With an average of xx matches scored daily on CricHeroes, here's a cricket experience like never before.
For every match scored, we send not one but two notifications – one before the match and one after, all for the die-hard fans like you. With cricket games that can go on for hours, Live Activity ensures you stay in the loop without worrying about your other responsibilities.
Now, let's talk about Dynamic Island.
Imagine having your cricket scores visible to your followers; it's like being part of an international cricket showdown. Dynamic Island seamlessly integrates with your device while you're actively using it – talk about being in the heart of the action!
The journey to the Dynamic Island begins when you toggle the LIVE ACTIVITY feature from the match scorecard.
With a simple tap, you're transported to the heart of the game, receiving real-time updates. For example, you'll instantly know when Kunal is on fire, needing just 102 more runs for glory.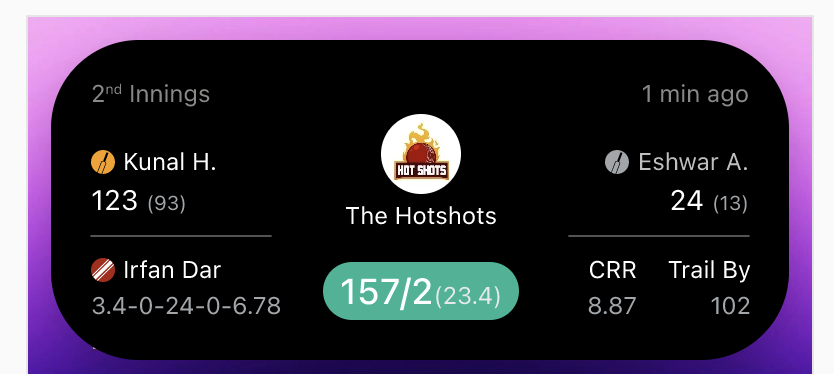 Of course, we still recommend the complete match experience on our app – it's the cricket fan's paradise. But we get it; life happens, and you have other tasks to juggle.
Dynamic Live Scores are the perfect way to strike that balance.
Conveying information through tiny icons might sound like a challenge, but thanks to our brilliant design team, you'll easily know when it's drinks break, a player has timed out, or when the rain gods decided to join the party.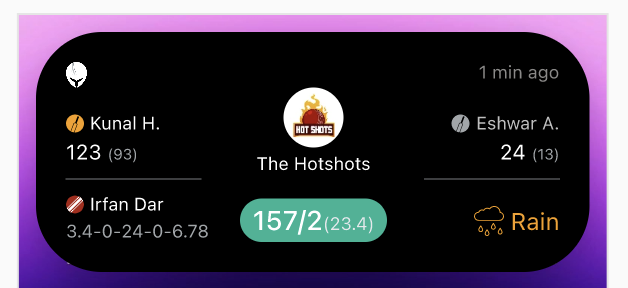 Where can you see it?
You can catch this feature on your Lock Screen, Dynamic Island, and as a sleek overlay at the top of your screen.*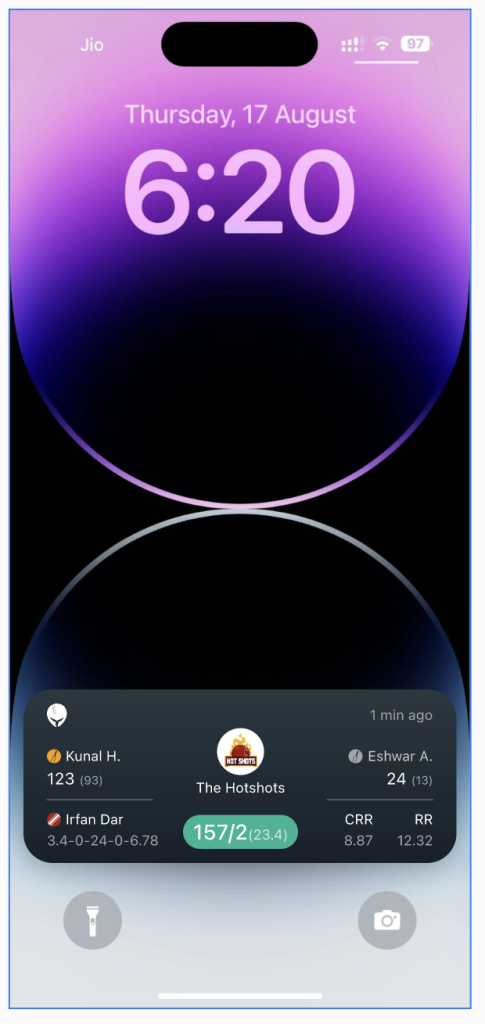 *Please note that currently, this feature is available for Limited-over matches and Box Cricket with fewer than 30 overs.
This update means having a front-row seat to all the action without leaving your iPhone's screen, so dive in and let us know how you find this new update.