Best Grassroots Cricketing Talent Recognition: Everything You Need To Know About The CricHeroes Awards 2022
February 3, 2023
Last year, CricHeroes launched the very first Grassroots cricket awards. We initiated the event to #CelebrateDreams of aspirational local players working tirelessly to represent Team India.
After the remarkable success of the CricHeroes Awards 2021, we didn't want to stop recognizing the local players and their efforts.
Evidently, at CricHeroes; grassroots #CricketMatters, and to endorse it even more CricHeroes Awards are back–And it's bigger and better!
Catch the live CricHeroes Awards 2022 at 7:00 pm on 5th February 2023 hosted by the incredibly talented television host and cricket commentator Jatin Sapru, who presented CricHeroes 2021 as well. We are lucky to have him for another inning!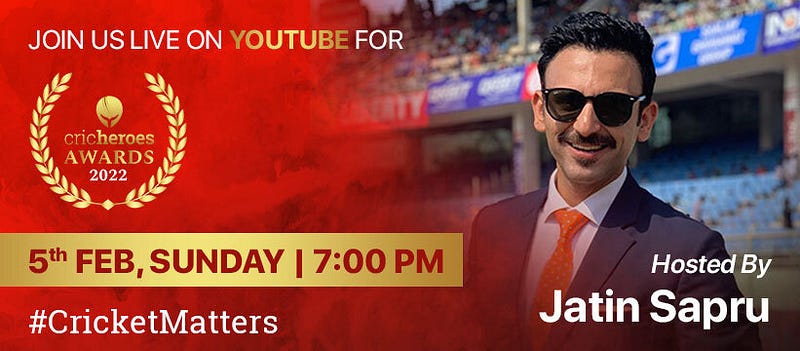 Wondering if we are holding the same award ceremony as last year?
No!
This year CricHeroes wants to endorse the power of cricket–#cricketmatters. Trying to send a strong message against discrimination based on caste, creed, gender, or religion. Because cricket is a game of unity and passion. It's our responsibility to store its sanctity even at the grassroots level.
This year we have introduced more categories, more winners, and designed an exciting winner box.
We plan to give out awards to 85+ winners from over 18 million cricket players registered with CricHeroes. But we aren't restricting ourselves to Indian players this year.
We are moving one step forward and appending international categories.
Yes, you heard that right!
Plenty of out-of-India grassroots players and organizers have shown interest in our application. Interestingly, we are noticing candidates using the scoring application from the US, Canada, UAE, Pakistan, Australia, and many more countries. It only seemed logical to involve all candidates across the globe and evaluate the players for Annual CricHeroes Awards 2022.
Here are a few Categories Introduced by CricHeroes for outside India:
WK of the Year [Tennis]
Emerging Batter (Leather-Male)
Bowler of the Year (Tennis-Male)
Veteran batter (Tennis-Male)
Veteran Bowlers (Tennis-Male)
Batter of the year (Tennis-Male)
Allrounder of The Year [Lather]
WK of the Year [Leather]
Fielder of the Year
Bowler of the Year (Leather-Male)
Emerging Bowlers (Leather-Male)
Veteran Bowlers (Leather-Male)
Most consistent Bowler (Leather-Male)
Most Consistent Batter [Leather]
Allrounder Hall of Fame
Allrounder of The Year [Tennis]
Most Consistent Batter [Tennis]
And more…
And that's just one part of the good news. Introducing another significant change this year –
We decided to launch special award categories to recognize female cricket players (registered on the CricHeroes app). In the past year, Indian female cricketers registered on our application performed excellently in various areas of the game. In fact, at this point, CricHeroes can account for more than 2 lac legit female players registered on the app.
Here's a glimpse into the Indian female categories introduced for 2022:
Batter of the year
Hard hitter of the year
Inning of the Year
Partnership of the year
Consistent Batter of the year
Bowler of the year
Spell of the Year
Wicket Keeper of the year
Fielder of the Year
Our Founder, Abhishek Desai, will go live on Instagram on 2nd Feb, 7 pm onwards, and spill more details about the awards and categories. You don't want to miss the session!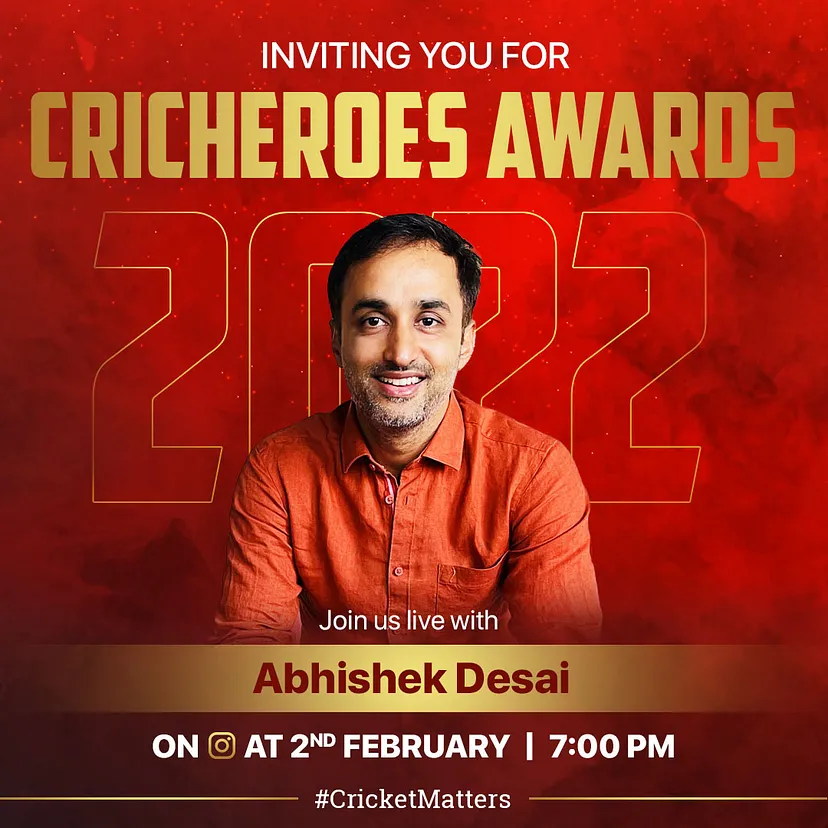 How did we choose the winners?
Similar to 2021, choosing the winners wasn't the most taxing job for us. Thanks to the accuracy of the insights generated by the app, the process became a tad easier.
Once more our team took some conscious efforts to identify and get rid of garbage data. We evaluated;
Only legit scores from 2022.
Removed fake profiles, players, and matches.
Only verified players on CricHeroes were considered.
Matches hosted on decent size ground with over-arm bowling were considered.
Despite algorithm-level verification, we manually verified the scores. Once again we got in touch with respective organizers, captains, opponents, and peers to confirm the winning data.
What would the winners receive this year?
Another mild improvisation was done to the winner's box.
Winners will be felicitated with:
Personalized T-shirts
Custom-designed trophy
Stickers for accessories
And, a congratulatory note!
Any award is a driving force for grassroots cricketers; empowering them to get recognized at the international level.
Hence at CricHeroes, we take event promotion very seriously and would not leave any stone unturned to help the budding cricketers get some well-deserving limelight.
So, are you ready for the BIG Day? Don't miss your chance to celebrate cricket with our local players, cricket experts, and our Host- Jatin Sapru. Your little support and enthusiasm can mean a lot to these young talented players. Save the date! #cricketmatters
We wish all winners and nominated candidates hearty congratulations. You are all special.
Stay passionate and stay hungry!!