Want A TV Like Experience For Your Local Cricket Tournaments?- Start Online Live Streaming.
January 27, 2023
Are you a fan of online streaming of cricket matches? Is it the experience of watching it from the comfort of your home? Or, is it cheering for your favorite team without purchasing an expensive ticket to the stadium?
Let's pause and think about it.
We'll come to this question in some time.
The state of grassroots cricket in India
Don't be shocked when I tell you that in a nation that shelters close to 1.4 billion people, about 18 million are registered cricketers on Cricheroes and 4.2 million+ cricket matches are played across 2000+ locations.
Now comes the sad and unexpected twist- You are vaguely aware of these matches.
Apart from International and Ranji matches, there are many local cricket matches played in India which do not make it to the TV screen.
Because there aren't enough formal means to bring grassroots cricket matches to the screens of the common household.
But not anymore!
Unmatched popularity of online cricket match live streaming
Coming back to the first question…what was your thought?
Who wouldn't enjoy experiencing a T20 match without leaving the comfort of their four walls? But a lot of effort goes into online live streaming of a T20 cricket tournament.
Disney+Hotstar app live-streamed the India-Pakistan T20 World Cup match in 2022 and received the highest-ever viewership at 1.8 crores overtaking the Asia cup record of 1.4 crore viewership. As a matter of fact, the first ball by Bhuvneshwar Kumar witnessed 36 lakh live views.
A T20 International cricket match employs professional cameramen to capture memorable cricketing moments. Around 30 cameras including umpire cam, stump cam, super slo-mo cam as well as spider cam, a laptop(s) exclusively for live-streaming, additional accessories such as the mini monitor, tripod stand, clamp, panning head, and no less than 80 production personnel are deployed to bring the high-end uninterrupted live streaming match to your TV screens.
And did we mention the entire live streaming set-up is weatherproof, deploys expensive sports technologies, and needs constant maintenance?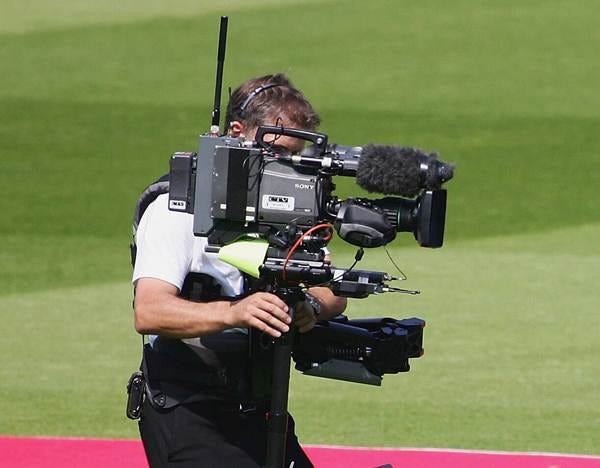 No doubt the professional setup is the best answer for an International cricket tournament. But what about local grassroots cricket matches? How do you pull the string between the match and a live-streaming event?
Enter Cricheores live streaming on the internet.
How Cricheroes Pro Live streaming is bringing local cricket matches to the forefront?
Just to clear the air- Neither do you need a professional cameraman nor a professional setup to live stream local cricket matches?
In the age of high-speed internet and camera-backed mobile phones, Grassroots cricketers are in for a joy ride. And of course, the availability of live streaming apps.
The requirements to live stream a local cricket match is fairly simple and easy to set up.
Online streaming tools
Streaming with Mobile Phone
Once you have scheduled the match on Cricheroes and purchased the live stream, you are ready for the match day.
First, get hold of a high-pixel mobile phone with a tripod or stable base. If budget allows, you can shoot the match with a DSLR camera.
Next, download the Cricheroes Live Stream app on the phone and log in with your credentials.
Remember to carry a power bank for uninterrupted power supply and a stable network offering 4G speed.

Streaming with a DSLR camera
If you plan to Live Stream your cricket match using a DSLR Camera, here's what you can do;
Fix your DSLR camera on the ground.
Connect the camera to a laptop.
Live stream your match using OBS (Open Broadcast System) on Youtube/Facebook.
Moreover, your partners and sponsors can also enjoy some limelight. You can help them feature on the live cricket streaming match.
Here's what typical live-streaming footage through Criceheroes would look like;
The excitement of live streaming doesn't end here.
Wouldn't it be great if live streaming could be coupled with a TV-like scoreboard helping your family and friends pick up from wherever they left off?
We aren't expressing ambitious dreams here. Cricheroes successfully designed a way to marry live streaming with a live scoreboard.
Enters Score Ticker
How to get a TV-like scoreboard during the live coverage of a cricket match?
With Score Ticker, the audience can receive a full scorecard for all live-streaming matches on Cricheroes.
Both batting and bowling scorecards show up between every over and innings break. And the exciting part is the theme of the score ticker is completely adjustable. You have the liberty to choose from multiple in-built themes and a ton of color options.
What would really break the monotony and stand out for the viewers is the flawless real-time animations indicating boundaries, sixes, and wickets.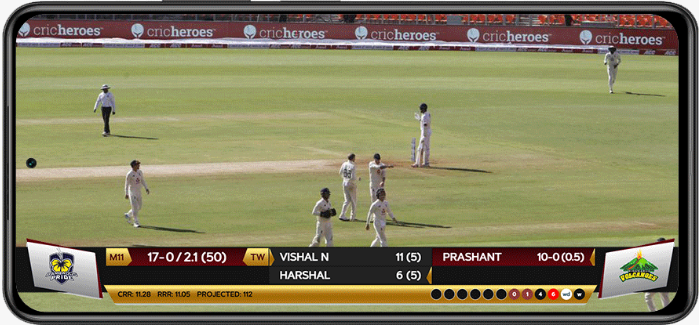 Live streaming alone cannot create the impact Score Ticker brings to the table. It offers:
Show ball-by-ball videos of all your matches automatically with highlights.
Drive fan engagement
Make local cricket tournaments an international cricket experience for viewers.
Grassroots-level cricket matches don't need to be stuck in the humdrum of local cricket. It's the grassroots tournament that build tomorrow's professional cricketers. Live cricket matches over the internet is an escape for aspiring players and they must grab the opportunity with both hands.
Not just friends and families but plenty of other eyes are on you. Take advantage of getting recognized early in your career, take advantage of Cricheroes Pro Live Streaming with an impressive Score Ticker.
Try kia kya? If not, here's your starting point:https://cricheroes.in/live-stream-page
FAQs
How many live-streaming sessions do I get with the Pro version?
You get free live streaming for 5 matches with Pro Infinity and 2 matches with Pro Annum. Avail streaming rights for unlimited matches in Daily, Monthly, and Yearly Plans. Thereafter, you are free to purchase live streaming per match basis.
Can I stream my school tournament on Youtube?
Yes, you can sync the live-streaming app with your Youtube channel.
How can I integrate Score Ticker with Live Stream software?
The steps are pretty basic and wouldn't be a challenge after watching this comprehensive video.
Can I use multiple mobile phones to cover multiple angles of the match?
Yes, absolutely. What you should know is that all phones should have the CH app installed and sign in to the app with the same ID(the one you used for purchasing live stream).
I have 4G services on my phone, will that be enough for live streaming?
Yes, live streaming works on 4G bandwidth.
What if I'm stuck and need support while live-streaming a tournament?
We've got you covered. You can access our support at any time- Pre, Post, and during a match. Rest assured, we'll help you set up and fix technical glitches.