6 LIVE Scoring Apps For Your Local Cricket Match
July 11, 2017
How do you score your local cricket matches or tournaments (aka leagues) right now? Most probably, you are doing it on paper using a scoresheet like one below.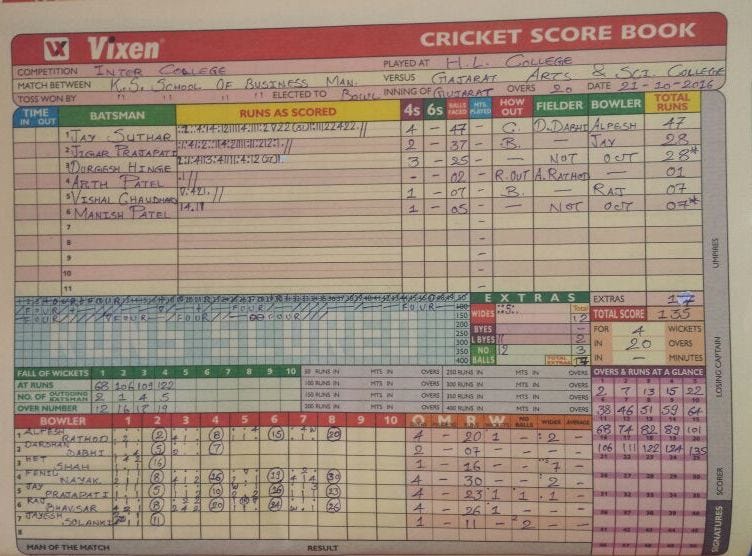 Well, you are not alone. Most of the non-BCCI matches (including state associations' matches) are still scored on paper. Even BCCI matches have multiple official scorers scoring matches on paper scoresheets but that's for another reason.
For viewers like us, BCCI uses suite of software to score all matches and broadcast scores LIVE ball to ball on TV and BCCI Website. We also follow scores on apps like ESPN Cricinfo and Cricbuzz. For many years, this was a prerogative of International Cricketers and Matches only.
But today, because of proliferation of smartphones and cheap data plans, it is possible for cricketers to score their local cricket matches and broadcast scores LIVE ball to ball, just using their smartphones.
It is possible to feel like an International Cricketer by having an access to almost similar technology without any additional cost.
So without further ado, here is the list of LIVE Scoring Apps for making your next local cricket match or tournament world-class.
CricHeroes
Disclaimer: I am the founder of CricHeroes.
CricHeroes is the newest kid on the block and arguably with the best product so far. It is free and it allows you to score individual cricket matches and entire tournaments. It has an Android app with more than 1.1 million downloads and an iOS app with 100,000+ downloads. With more than 2.5 million registered users in 2.5 years, it is already the biggest Cricket Network of the world and number 1 cricket scoring app!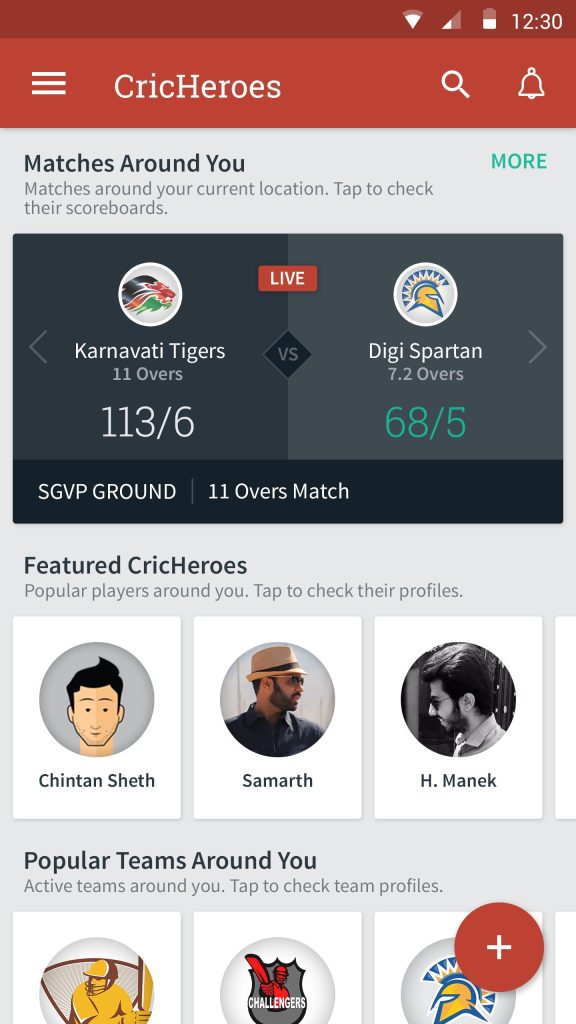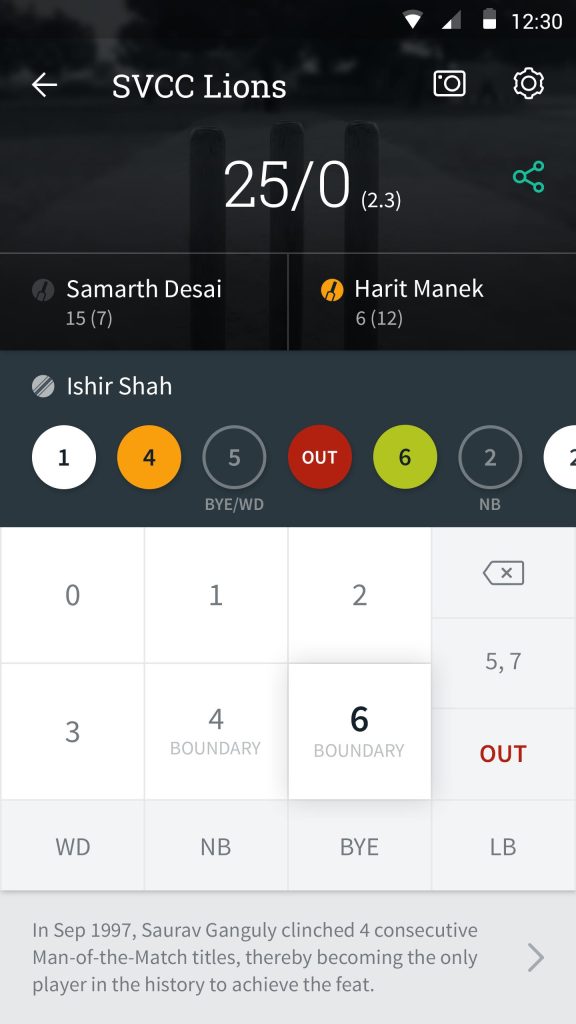 CricHeroes positions itself as a "Cricket Network" and not just a scoring app. The idea is to give maximum recognition to local cricketers for their love and passion for Cricket. The feeling is beautifully conveyed in this promotional video.
Pros: Stable scoring app. Have proven track record with 200,000+ matches scored and 15000+ tournaments scored. They are also associated with 50+ Cricket Associations including 10 ICC Affiliated Members — kind of a big deal for an app launched in late 2016.
Cons: Though they release a new version every 2–3 weeks, users always want something more. So if you are one of them, you may feel a feature missing here and there.
Chauka
Chauka is one of the oldest from the lot. It has a powerful scoring module and a lot of matches get scored using Chauka's iOS and Android apps. Chauka is free for scoring an individual match, but paid for tournaments. Last I checked, they charge around INR 3000 to INR 5000 per tournament. It claims to have database of 250000 players, 20000 teams, 50000 matches and 1700 tournaments.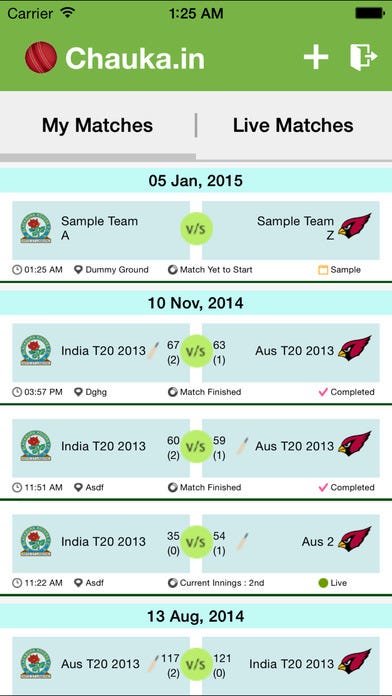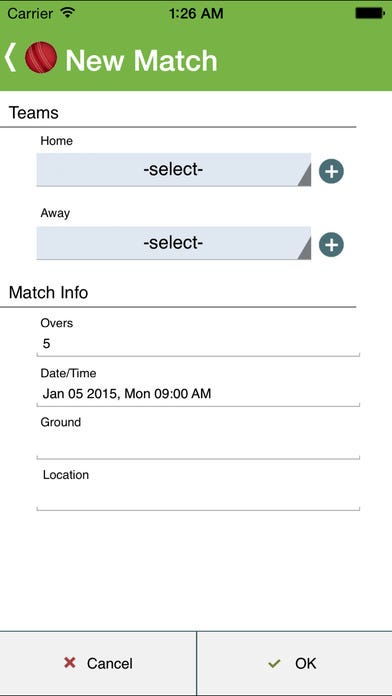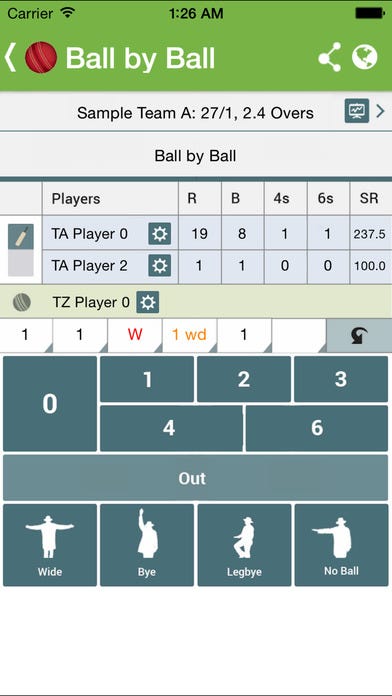 Pros: Stable scoring module and available on iOS and Android.
Cons: Slightly difficult to use. The UI badly needs an upgrade.
CricHQ
CricHQ is a New Zealand-based company. They provide scoring platform to various cricket boards and clubs. They also have interesting suits of products including CricHQ TV. When I downloaded the CricHQ iOS App, it was more than 100MB, which I think is a lot. Even though it has a very powerful scoring module, I believe the UI is little complicated for a normal cricketer or scorer to score a match. And it is not free for scoring a tournament.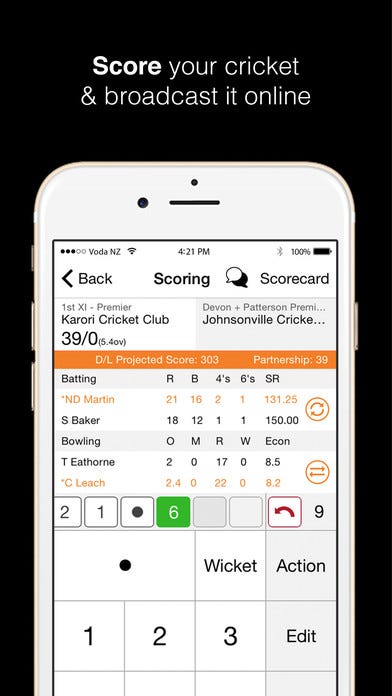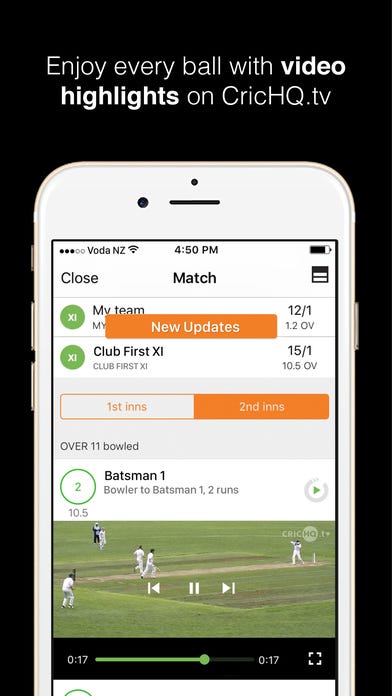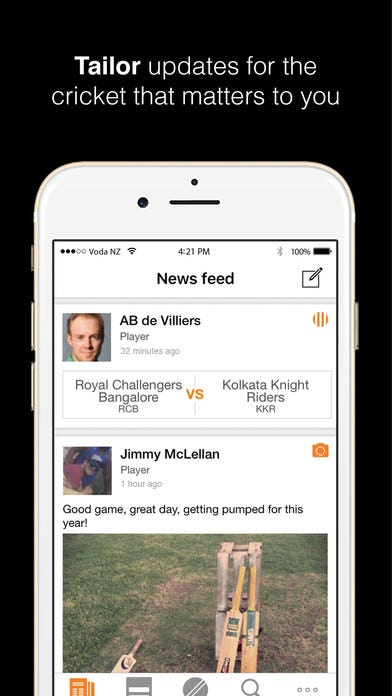 Pros: Old and established company. MVP (Most Valuable Player) calculation is good.
Cons: Very heavy iOS app and difficult to use scoring module.
CricClubs
CricClubs is a well-known scoring app in the USA. You have to register your league / tournament first to start scoring. Because of that onboarding is little long and complicated. Even though it has sophisticated help modules and all but for a scorer in hurry, it will be difficult to score matches on CricClubs. Once you get a hang of it, you may like the powerful scoring module and league management modules.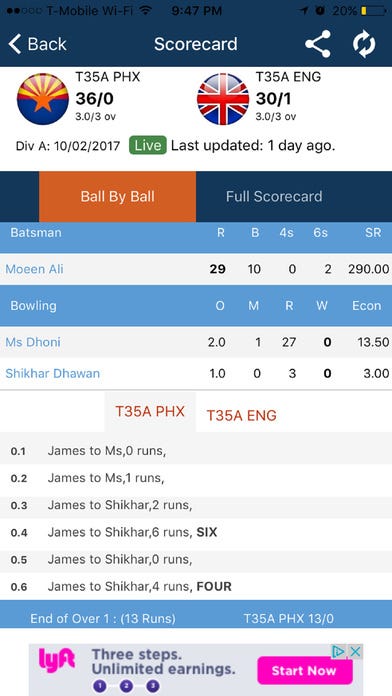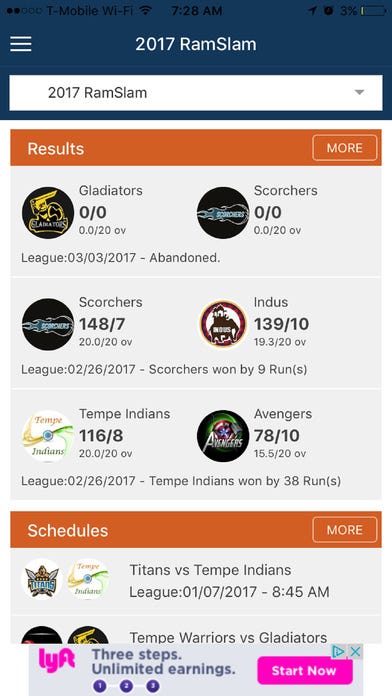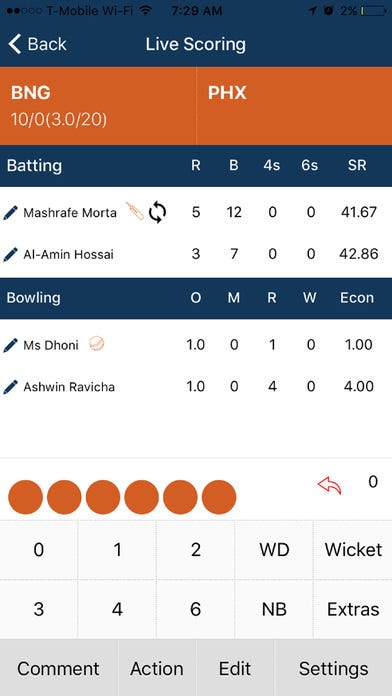 Pros: Well established and stable. You get a dedicated page for your league.
Cons: Long and complicated onboarding flow.
SportsXtramile
SportsXtramile aggregates all sports facilities, events and allow discussions on them. They seem to have a cricket scoring module but it is not available on their website to download.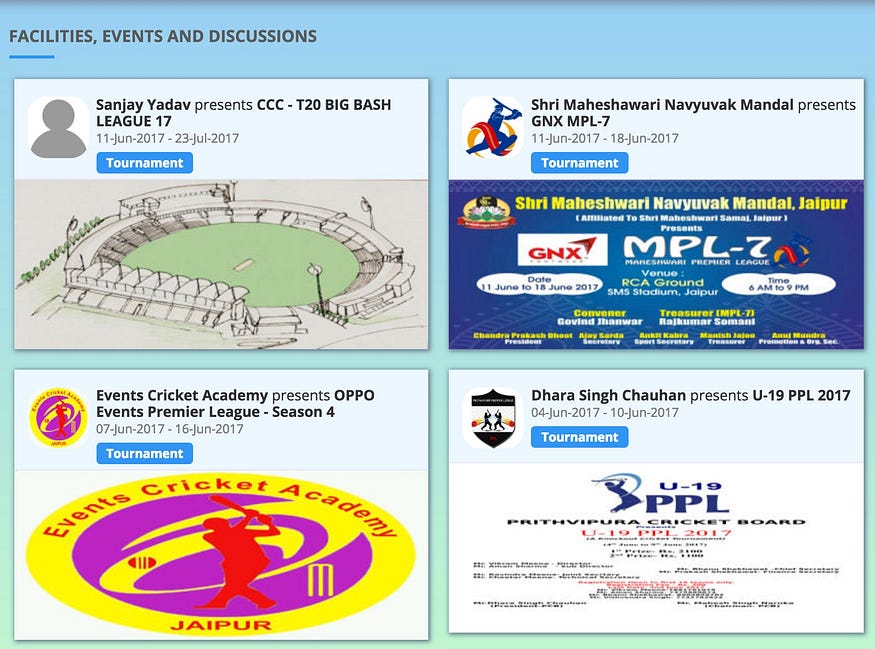 Pros: All sports including cricket.
Cons: Can't score matches on your own as of now.
cric-ten
In their own words, Cric-ten provides free live ball-by-ball coverage of all domestic and grassroots level tournaments conducted by cricket associations and sports organizations around the world.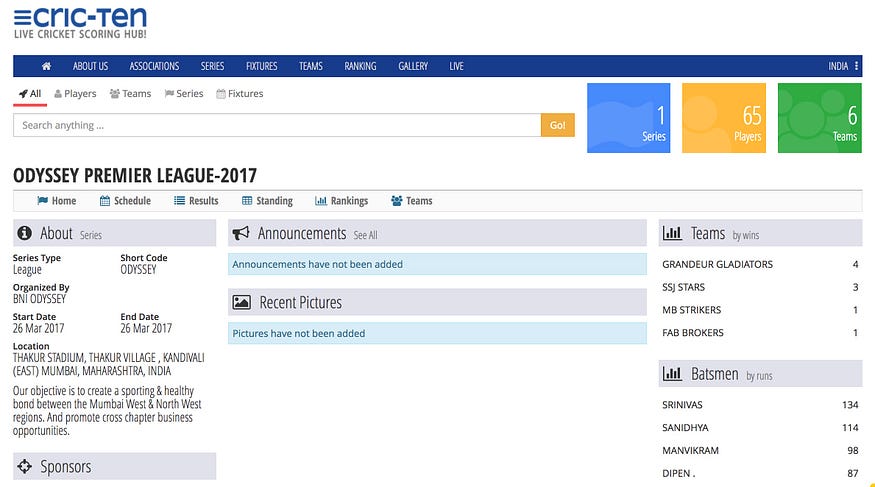 When I last checked, they had three versions of the product. Basic, Semi-premium and Full premium version costing INR 5000, 15000 and 25000 respectively.
Pros: It is hard to say anything here as scoring is only available for paid tournaments.
Cons: There is a little difference feature-wise in paid modules. Unable to check the quality of LIVE scoring without paying.
So, what are you waiting for? Here is your chance to score your local cricket matches like an International Match. Go ahead and try these apps and let me know which one is the best!
PS: If you know any other cricket scoring app, do let me know.