CricHeroes awardees making it big at the Women's Premier League 2023 auctions
March 10, 2023
With immense pride and a sense of fulfillment, CricHeroes is excited to announce that two awardees in the recently conducted CricHeroes Awards 2022, Kiran Navgire and Shreyanka Patil, have landed franchise contracts in the inaugural season of the Women's Premier League (WPL).
Kiran Navgire, recognized as the 'Hard Hitter of the Year' in the CricHeroes awards, bagged a contract of INR 30 lakhs by the UP Warriorz. At the same time, Bengaluru's off-spinner Shreyanka who picked the CricHeroes 'Spell of the Year' award, bagged an equally lucrative contract of INR 10 lakhs with the Royal Challengers Bangalore (RCB).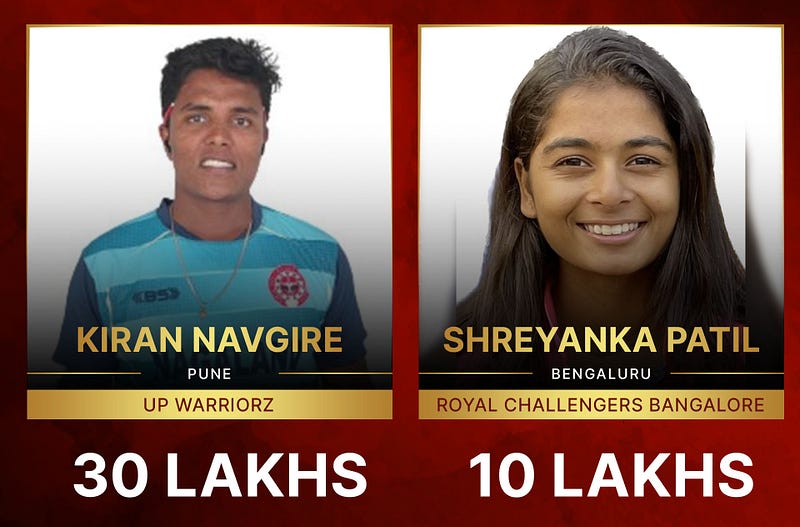 There is no end to the congratulations. Many more CricHeroes women awardees were picked up by reputed teams in the Women's Premier League–Snehadeepti (Delhi Capitals), Ashwani Kumari (Gujarat Giants), Jinti Moni Kalita (Mumbai Indians), and Laxmi Yadav (UP Warriorz).
"This is a proud moment for all of us at CricHeroes because here we are supporting and encouraging women who are also change-makers in cricket," said Abhishek Desai.
Rightly pointed out by our founder Abhishek Desai. This year CricHeroes Awards 2022 was not just about recognizing grassroots cricketers and the community–our goal was to bring the spotlight to deserving players regardless of gender and geography.
CricHeroes Awards 2022
We raised our bar and awarded 85+ winners from over 19 million cricket players globally, registered with CricHeroes.
Out of the 19 million players, over 2 lac players were women. And these players have outshined themselves in innumerable categories.
Hence, the brilliant performances persuaded us to launch a whole new range of categories for women as enlisted here:
Batter of the year
Hard hitter of the year
Inning of the Year
Partnership of the year
Consistent Batter of the year
Bowler of the year
Spell of the Year
Wicket Keeper of the year
Fielder of the Year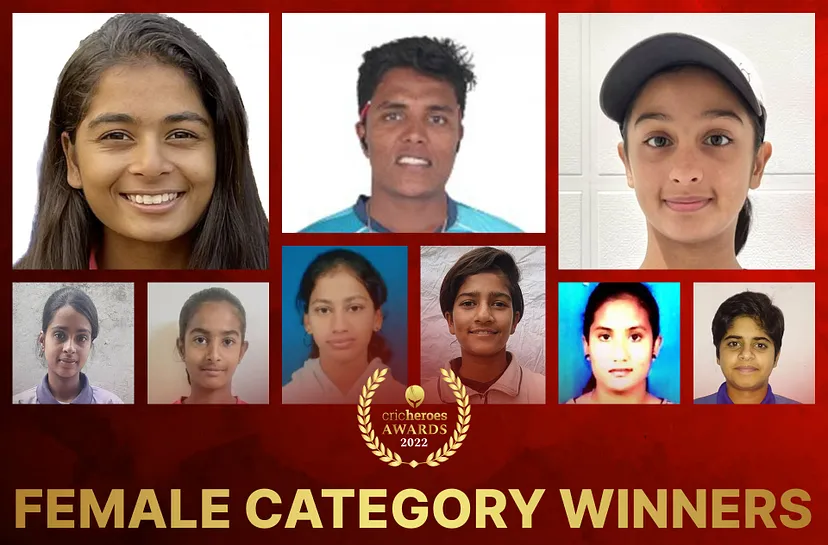 The awards were hosted by the incredibly talented television broadcaster and cricket commentator Jatin Sapru.
Awardees were awarded based on their performance throughout the year. These players made use of the CricHeroes App and registered themselves.
Interestingly, we noticed candidates using our scoring application from the US, Canada, UAE, Pakistan, Australia, and many more countries. It only seemed logical to involve all candidates across the globe and evaluate the players for the Annual CricHeroes Awards 2022.
How is the CricHeroes scoring portal changing careers?
Inserting and tracking scores through an application at a grassroots level may not seem like a big deal now. However, when the right time comes, these accumulated and structured scorecards enable the selection process for professional cricket platforms.
For Kiran and Shreyanka, their journey has definitely proved us right. Getting admitted to the Women's Premiere League is just the first stepping stone to success. Kiran already received the chance to represent at 6 T20 international matches whereas, Shreyanka Patil from Bengaluru is breaking records at a national level with her CricHeroes stats displaying 94 wickets at an average of 15.22 and a best of 9/24.
You must listen to what Bengaluru's Shreyanka has to say about the CricHeroes stats,
"As a cricket fan, I've grown up checking stats of my favorite players on big platforms like ESPNCricinfo and Cricbuzz, A huge shout-out to CricHeroes for the way it has brought that to the grassroots level. Akin to its name, I truly do feel like a hero looking at the way my stats are presented on the app. Kudos to the CricHeroes team for pulling this off in such a seamless manner, I'm sure it has played a part in the way cricket is played at the grassroots level".
At CricHeroes, we truly want players to exploit the application to its fullest potential. Instead of losing opportunities, take advantage of the scoring application and set records at grassroots cricket tournaments. Once recorded, it's easier for the cricket fraternity to track players and judge their consistency.
And women definitely should rely on such organized platforms to showcase their talent. It'll not just create opportunities for them but help them fight social pressure by showing the rate of participation and competition amongst other female players.
Lastly, we would like to take this opportunity to congratulate all the players for getting selected for the Women's Premier League that commenced on the 4th of March. The inaugural season of WPL will be India's top domestic T20 cricket league for women. In the auction held on February 13, 2023, the five franchises selected the cricketers. Five teams will be competing for the championship trophy and a total of 87 female cricketers will be seen playing at Brabourne Stadium and DY Patil Stadium in Mumbai.
So, don't miss these talented women and their cricketing skills this season.
Btw, do you use CricHeroes to record your cricket scores? No? What's stopping you?