How do we tag batters and bowlers on CricHeroes?
May 3, 2022
The story began when I read Balanced Lineups by Karthik S. He wrote this article before the 2019 ICC Cricket World Cup where he tried to find out which world cup teams have the most balanced lineups based on past performances of their players. He used K-means clustering algorithm to find the clusters of batters having similar playing style and tagged them. This is what he got.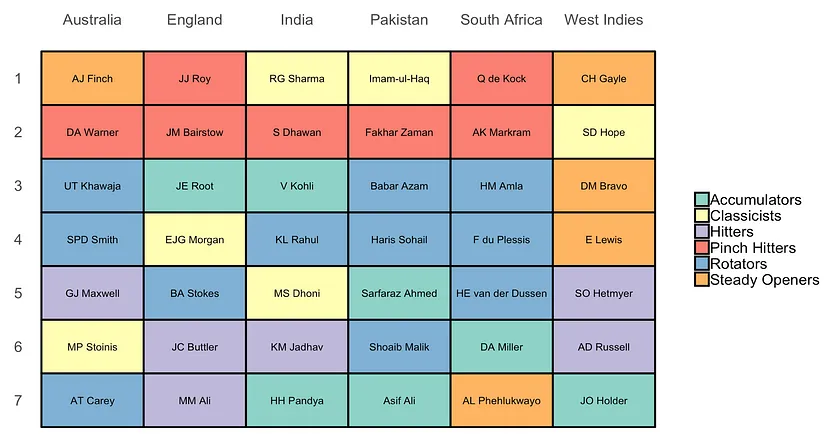 It's an extremely interesting way to tag various kinds of batters and understand the strengths of lineups with the help machine learning. I strongly suggest you read the article first before moving forward.
So we decided to apply the similar logic for grassroots cricketers, who score their matches on CricHeroes.
We followed the same process. We took all of your historical performances on CricHeroes into the consideration to understand how you approach the game in general. We got meaningful results when we set the number of clusters at 5 and thus we got Steady Batter, Classicist, Accumulator, Hard Hitter and Destroyer.
What are the 5 kinds of batters?
Steady Batter: Batters who are cautious and build their innings slowly.
Classicist: Batters who scores at a better strike rate and believes in taking singles and doubles.
Accumulator: Batters who can score with a decent strike rate and mostly play the game according to the situation.
Hard Hitter: Batters who are powerful strikers of the ball, dealing in either boundaries or playing dot balls.
Destroyer: Power hitters who can hit big boundaries consistently without playing more dot balls and can change the course of the game in a short time.
And what do these clusters look like?
Before we understand clusters, let's talk about formats a bit.
Limited Over Matches, Test Matches, Pair Cricket and even The Hundred, you can score all kinds of matches on CricHeroes. But majority of them are limited over matches and thus we have considered only that type of matches for this analysis and have grouped them as follow.
6–12 OVERS → T10
13–20 OVERS → T20
21–99 OVERS → Others
Here are the indicative clusters for above groups.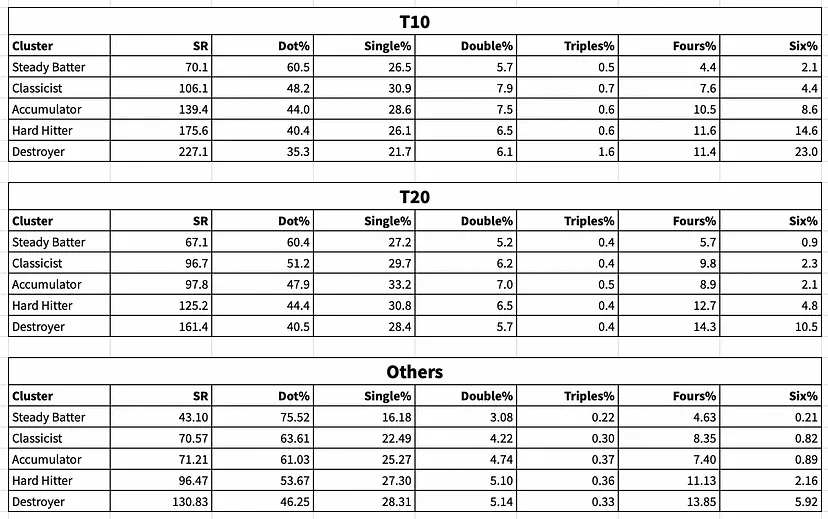 So, let's say your career strike rate is 125 then there are higher chances that you will be an Accumulator and not a Classicist. On the other hand, if your career strike rate is 181 then you will be a Hard Hitter and not a Destroyer!
Eligible Users
Let's say you have played 25 matches on CricHeroes like following.
6–12 Overs [T10] → 12 Matches
13–20 Overs [T20] → 9 Matches
21–99 Overs [Others] → 4 Matches
So you will get tagged for T10 only.
Non-Eligible Users
Let's say you have played 27 matches on CricHeroes like following.
6–12 Overs [T10] → 9 Matches
13–20 Overs [T20] → 9 Matches
21–99 Overs [Others] → 9 Matches
Sorry, but you won't be tagged for any format as of now.
Eligible Users [Multiple Formats]
Let's say you have played 100 matches on CricHeroes like following.
6–12 Overs [T10] → 20 Matches
13–20 Overs [T20] → 60 Matches
21–99 Overs [Others] → 20 Matches
In this case, you are eligible in all three formats. But, as you have played most T20 matches you will be tagged for this format only.
How do you qualify for this (the clustering process and tags)?
You must be a verified user on CricHeroes.
You must have played at least 10 genuine matches in a particular format.
You will get tagged in the format in which you have played the most number of matches (more on this below).
We have considered only limited overs matches for these tags.
How do I know which batter is which?
Well, we have tagged the qualified batters on their mini profile, full profile and team lineups (My Teams > Team).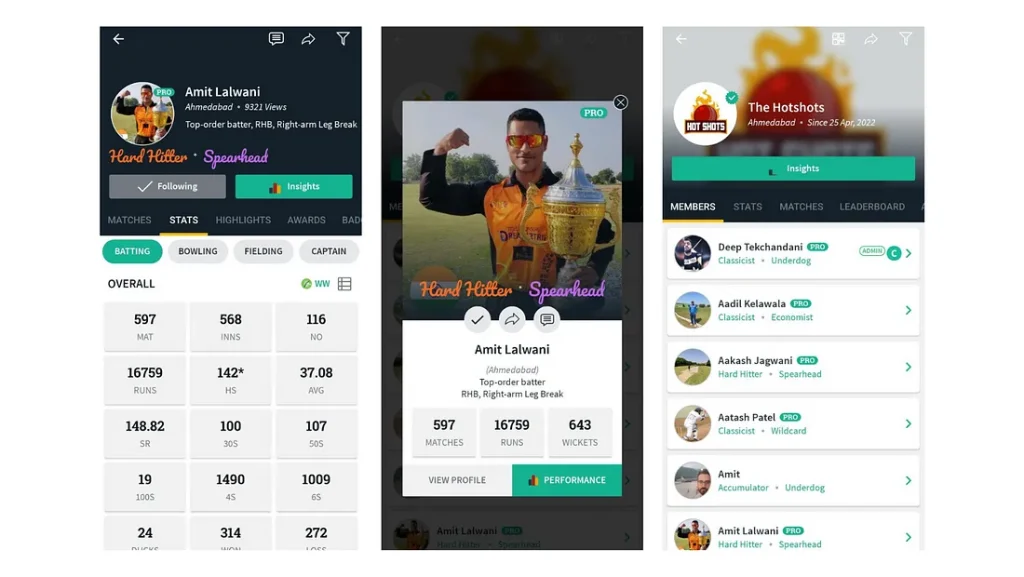 Now let's talk about the bowler tags.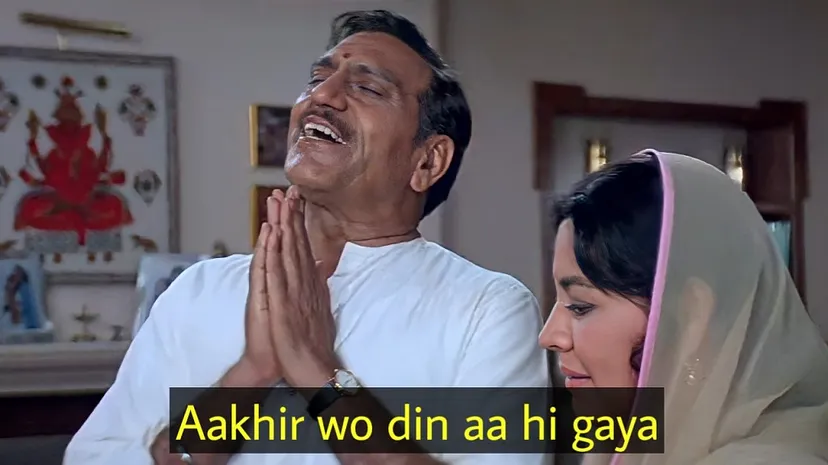 First things first, we are really sorry for taking such a long time to come up with bowler tags. We sincerely apologise to all the passionate bowlers on CricHeroes. But it was actually harder to classify bowlers based on their playing style.
We used following stats of bowlers to categorise them:
Number of wickets
Economy
Bowling Average
Bowling Strike Rate
Dot %
We fed all past performances of all the bowlers on CricHeroes to a K-means Clustering algorithm which gave us the following distinct clusters of bowlers.

How do you define the clusters for bowlers?
Underdog: This bowler may carry incredible potential but has been going through a rough patch recently.
Wildcard: This bowler fearlessly trades runs for wickets, one can take a chance on this bowler.
Economist: This bowler delivers tight spells and seizes wickets at regular intervals.
Spearhead: This bowler has the highest chances of taking wickets while keeping runs under control.
Now let's understand with an example who all are eligible for bowler tag.
Consider a player who has played 100 matches and taken 80 wickets on CricHeroes.
Step 1: Determining the number of matches in each format
Box cricket: 50 matches
Test matches: 5 matches
The Hundred: 0 matches
Limited Overs: 45 matches
Based on the above formats, only 45 matches will be eligible for the subsequent steps.
Step 2: Breaking down the limited overs matches by number of overs
4 Overs: 10 matches
6 Overs: 20 matches
10 Overs: 10 matches
12 Overs: 5 matches
After completing step 2, we are left with 15 matches that will be considered for the next steps.
Step 3: Calculating the number of wickets in these matches
If the player has taken 10 or more wickets in those 15 matches, they will be considered eligible.
If the player has taken less than 10 wickets in those 15 matches, they will not be eligible.
Where can you find your Bowler Tag?
We have tagged the qualified bowlers on their mini profile, full profile and team lineups (My Teams > Team).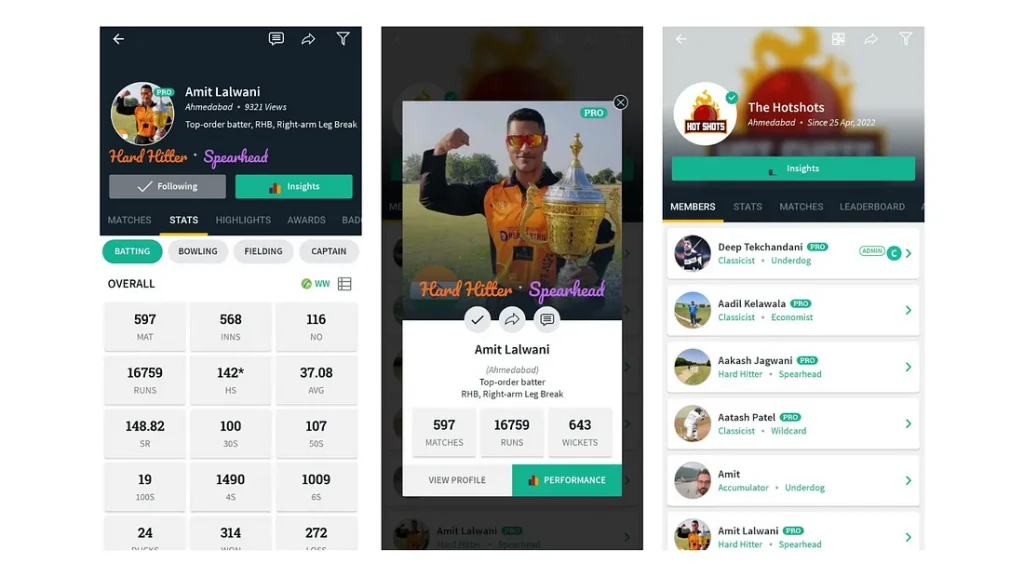 Didn't get the tag? You will, only if you have –
Verified your profile on CricHeroes
Played limited overs format
Played 8 or more overs matches
Taken at least 10 wickets on CricHeroes
Please note: Bowler Tags for Box Cricket, The Hundred, Test are not considered currently.
But what's in it for me?
Ok, so this can help you in multiple ways. First, it will help captains decide which batter is best suited for any match situation.
Second, it will help you field a more balanced team. If you have too many steady batters or classicists in the team, you know your batting line up is not suitable for scoring runs at a higher strike rate.
Let's take an example.
Your team is chasing 185 runs in 20 overs. It's a steep target. One tactic could be to send an Accumulator and a Hard Hitter on top as you will need batters who can pace their innings steadily but hit bad balls for boundaries too. Now if one of the batters gets out early, you can now send a Classicist to hold on to at least one end and not lose another wicket early.
Similarly, you can build your tactics as the game progresses and try to win them all! It does not guarantee success in every game but it surely improves the chances.
So what do you think? How can we improve this further? How do we make grassroots cricket better?