How to become a better cricketer?
July 24, 2019
If you are a passionate cricketer, you may have thought about this at least once.
How can I be a consistent cricketer like Virat Kohli? Or How can I improve my skills as a cricketer to become the best amongst my peers?
Of course, cricketers like Virat are at a different level but let's face the reality, they also started somewhere. Most of them started playing grassroots cricket and then gradually reached up to this superhuman level. If we look closely, one of the reasons for their success is continuous self-assessment & skill improvement. We believe that should not be the prerogative of only international or national cricketers.
CricHeroes is constantly working towards providing the same level of insights to make all the grassroots cricketers better, strategically and tactically. Along with a world-class match scorecard, we also offer CricInsights, a deep dive into your own performance as well performance of your peers and opponents to become a world-class cricketer.
Of course, for CricInsights to work, your local cricket matches and tournaments should be scored on the free CricHeroes App. Once that is done, just get CricHeroes Pro membership and start becoming a better version of yourself!
CricInsights is made of these primary modules.
Player Insights
Team Insights
Match Insights
Tournament Insights
1. Player Insights
As the name suggests, with Player Insights you can analyse your own and every other cricketer's profile on CricHeroes. It empowers you to find your own strengths and weaknesses. You can also compare yourself with other cricketers and find the room for improvement.
Player Insights has four parts:
Batting Insights
Bowling Insights
Compare
Face-Off
Batting Insights: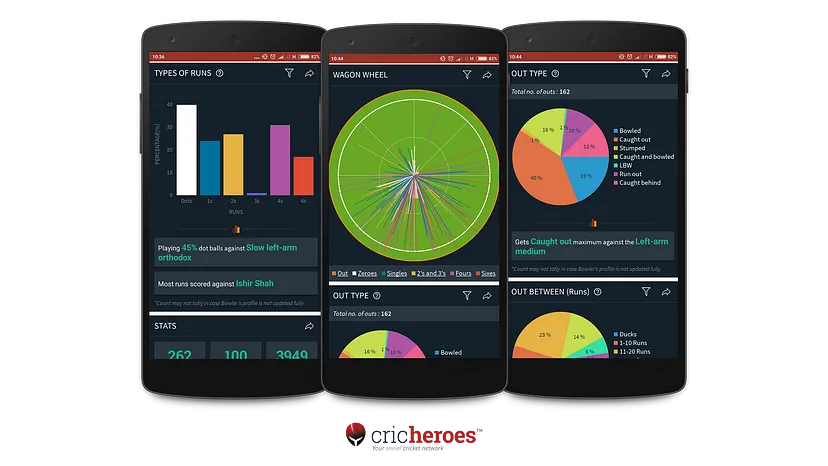 You can analyse following with batting insights,
Current Form i.e. how have you performed in the last 5 innings.
Your Playing Style i.e. when do you start accelerating the innings.
Your career Wagon Wheel, to find your strengths and weaknesses.
How and when do you lose your wickets the most?
Which is the most suitable batting position for you?
Which type of runs do you score the most?
And more…
Bowling Insights: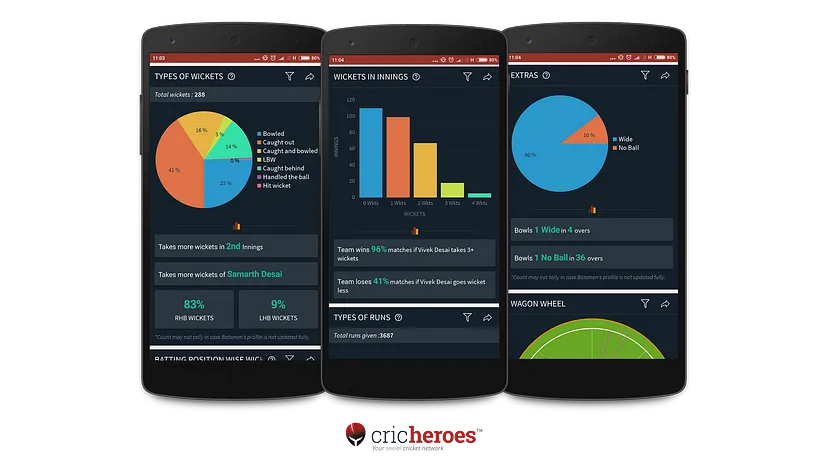 You can analyse following with bowling insights,
Current form as a bowler i.e. performance in the last 5 innings.
Most effective bowling position.
Which types of wickets do you take the most?
Types of runs and extras given by you.
Wagon Wheel analysis for setting better fielding in your spell.
And more…
Compare: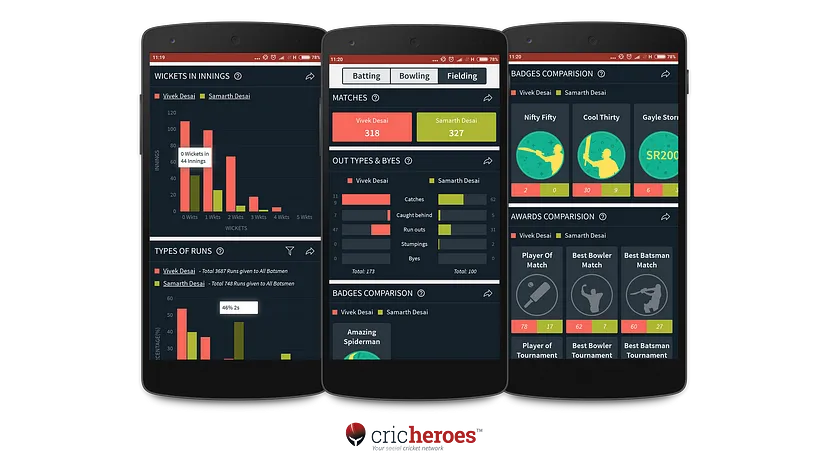 Every batsman is competing with some other batsman in his or opposition team. Many times, we want to to find out who is better. Well, you can now with compare.
Face-Off: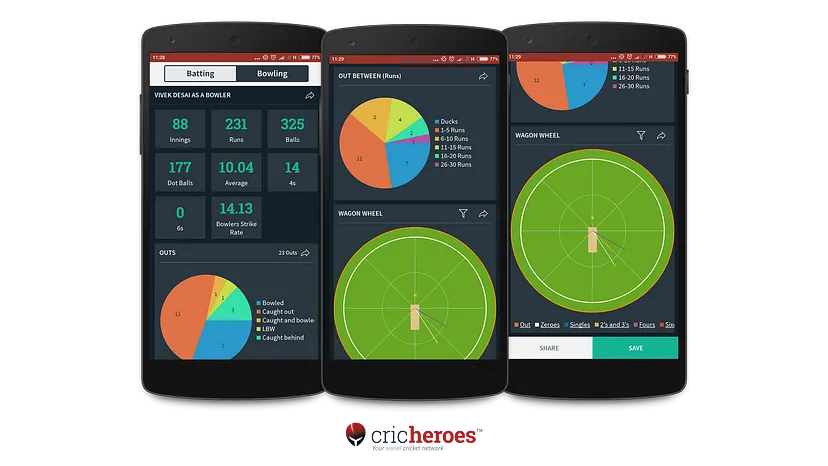 And every batsman has a rivalry with a particular bowler. Either you always hit him for more runs or you get out the most in his bowling. Find out what actually happens with Face-off.
2. Team Insights
Team Insights lets you analyse the opponent team to understand their strengths and weaknesses before a match (or in general).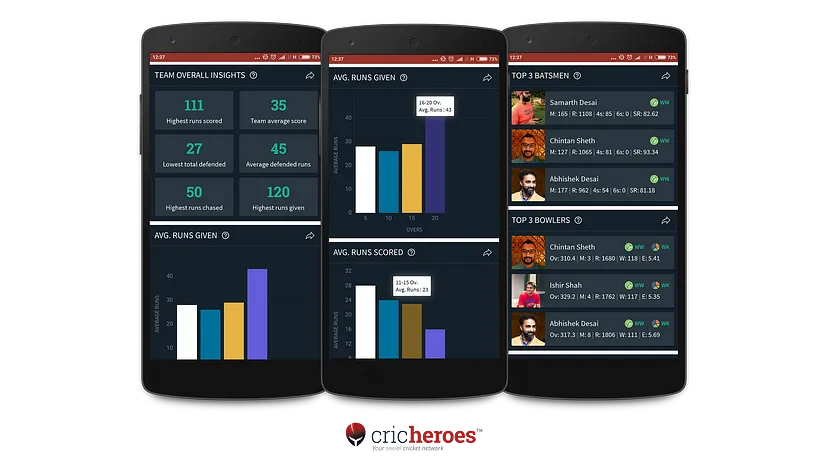 With Team Insights, you will know…
What do they generally do after winning the toss?
How many matches do they win after batting first or bowling first?
Who are their top batsmen/bowlers?
Who are their manageable bowlers?
When do they score more runs, in power play or in death overs?
And much more…
Match Insights
Match Insights lets you analyze your upcoming match to improve your chances of winning. Not only that but you can also analyse a live and a completed match to get contextual insights. Let us understand more.
Pre Match insights: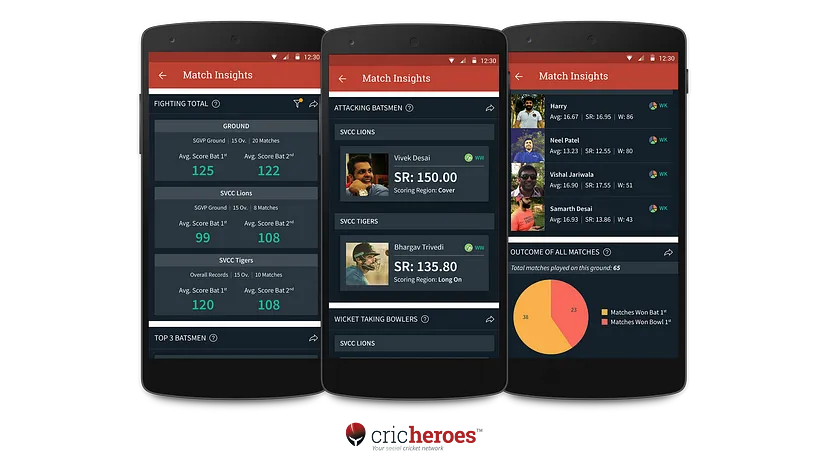 With pre-match insights,
Know what to choose after winning the toss.
Top 3 batsmen and bowlers of the opposite team.
Suggested batting and bowling order of your team.
Manageable bowlers of the opposite team.
And more…
Live Match Insights: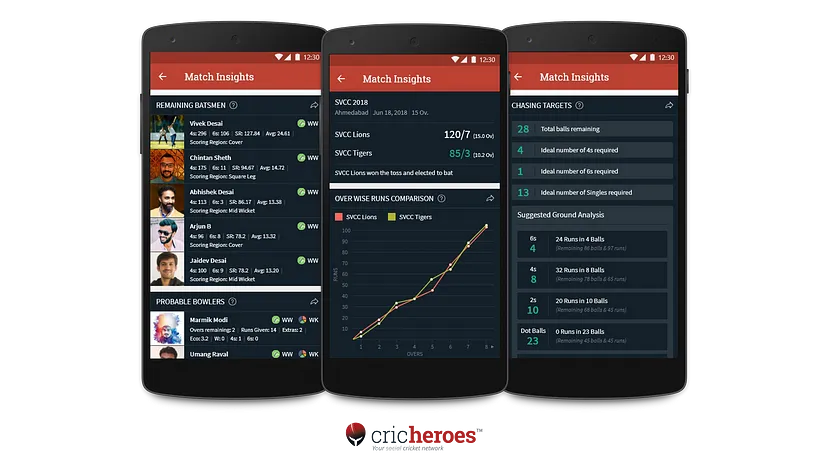 Get real-time insights into an ongoing match with,
Dynamic updates about suggested batting and bowling order for your team.
Set a target and know the required run rate during every over.
While chasing, get guidance through over-wise runs comparison and required run rate.
It also gives you a smart calculation of target by breaking total runs to be scored into achievable chunks.
Post Match Insights: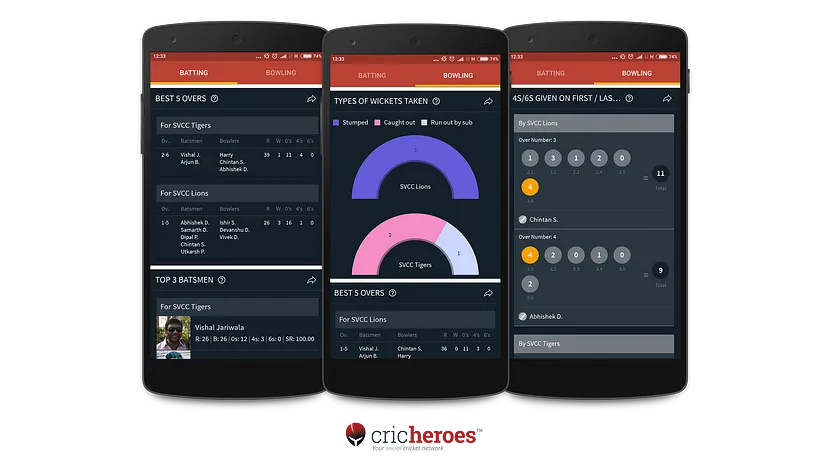 Sometimes you win a match but don't know the key factors that helped you win. Similarly, when you lose a match you don't know the real reasons behind that loss (No, that dropped catch is not the real reason!).
After every match,
Compare runs, overs, boundaries, extras of both the innings side by side.
Find out top batsmen, top bowlers of both the innings.
The best 5 overs for both teams.
The best partnerships in both the innings.
And much more…
If you have won, keep winning and if you have lost, come back stronger with Match Insights.
Tournament Insights
So far, we have analysed player, team, and match but sometimes you increase your chances of winning much more by knowing how a particular tournament is playing out for everyone.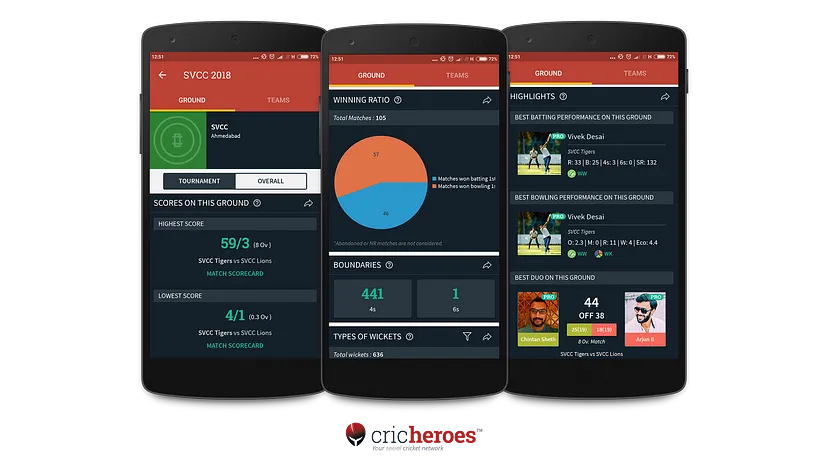 With tournament insights, you will know…
What to do after winning a toss (looking at how the ground has played out for all matches so far)?
The average first innings score on the ground (you need a target when batting first).
The highest score chased and lowest score defended.
And some fun insights like best partnership, fastest fifties and much more.
Phew…we know this is a handful but don't worry, all these insights are easily accessible contextually by clicking that green insights button on the CricHeroes App.

And if you are already a CricHeroes Pro, please let us know how is it working for you? Is it helping you become a better cricketer and in winning matches? We are all ears! 🙂