Indian Grassroots Cricket Landscape Part-2
April 15, 2022
We wrote the first version of the Indian Grassroots Cricket Landscape in 2019 when we were at about 3m registered user base and 300,000 cricket matches scored. We have grown quite a bit after that despite the pandemic.
Now with about 13 million registered cricketers, 2.6 million+ cricket matches, majority of them in India, CricHeroes is in an even better position to unearth interesting patterns of grassroots Cricket in India. We once again decided to dig in, analysed the cricket matches scored on CricHeroes in 2021, and found some great insights.
So without further ado, let us tell you the Indian Grassroots Cricket story of 2021!
How many overs of matches do we like to play?
This time we analysed matches played with Leather and Tennis ball differently as both are completely different games. Both have their loyal following, game plan, strategy, playing style and thus it is not fair to mix or compare one with another.
Let's talk first about tennis ball cricket.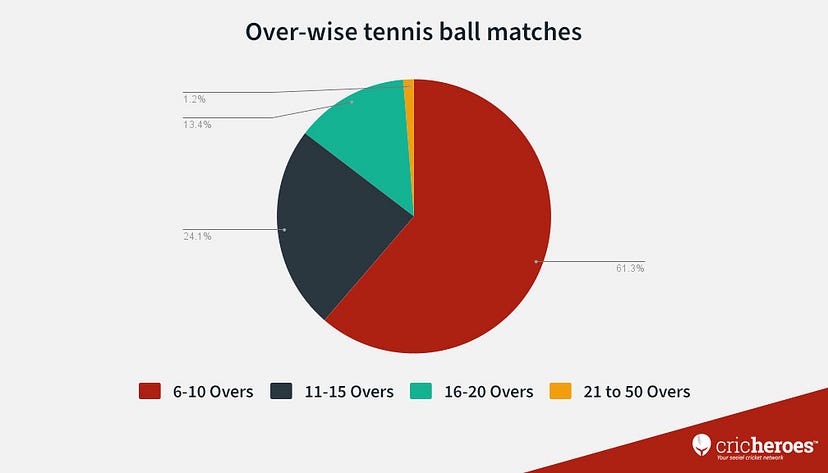 As you can see, the most popular format amongst the tennis ball cricketers is 6–10 over matches. We have also seen a lot of good tournaments of 12-over matches. You will rarely see a tennis ball match of more than 20-overs and data proves that. Speed is everything when it comes to this form of cricket!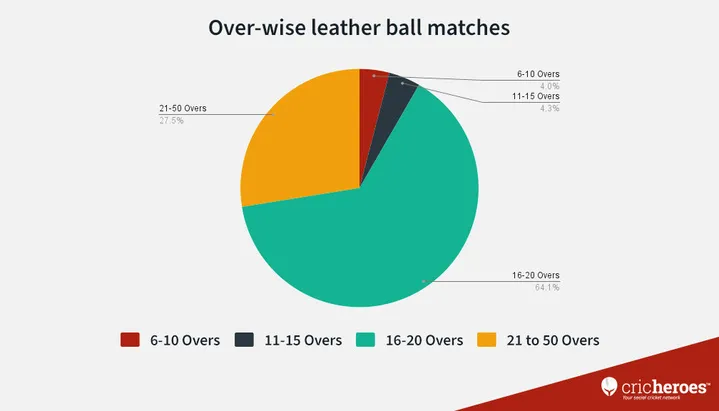 Whereas in case of leather ball, as expected cricketers prefer longer format. T20 is the most popular format by far but considerable amount of matches are played in 25, 30, 35, 50-overs as well.
But are we going to see cricket without overs?
As you know, The England Cricket Board introduced a new format, The Hundred (no concept of overs; just 100 balls) in 2021, which is gaining popularity at grassroots level also.
More than 1000 matches were scored on CricHeroes in 2021 alone of The Hundred format! We expect it to grow further this year.
Similarly, we introduced scoring for pair cricket matches recently on CricHeroes. It is quite popular in Box Cricket settings in India but you will be surprised to know that it is popular in some European countries like Estonia too! The rules of pair cricket are worth scanning, they're fun!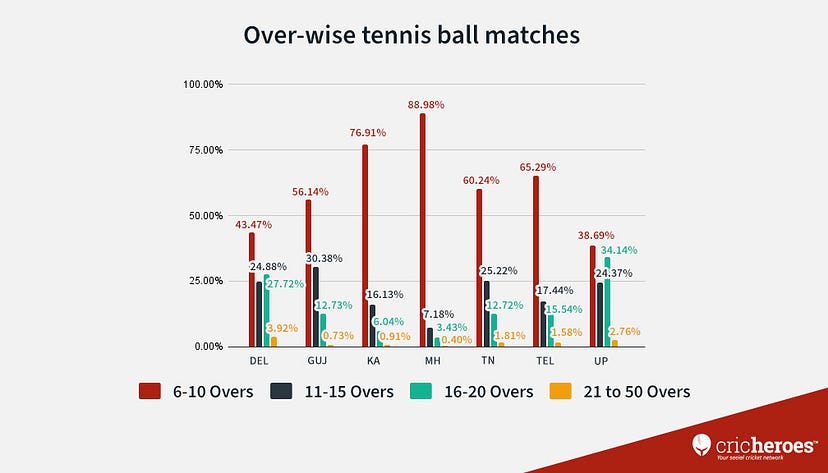 Above is the breakdown of tennis ball matches played in some of our top regions of India. Maharashtra stands out when it comes to the fast and furious format of tennis-ball cricket! 🙂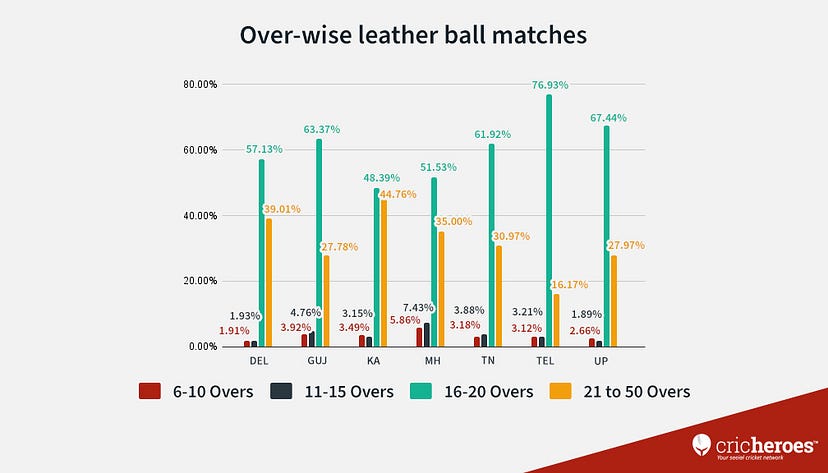 Whereas in leather-ball cricket, T20 format is most popular in Telangana compared to other formats. Notice how Karnataka enjoys the longer-form of leather-ball cricket equally well!
Which type of ball do we like to play cricket with?
Cricket has been played for centuries and over a period of time, the game has evolved and so has its equipment. There are varieties of cricket balls that we all play with, however we know that every ball requires a different skill set.
Hard Tennis ball as we see is used by maximum players probably because of its accessibility and cost-effectiveness. We have seen a drop in the use of leather balls since 2019 and we are guessing the grounds were closed because of COVID, yes?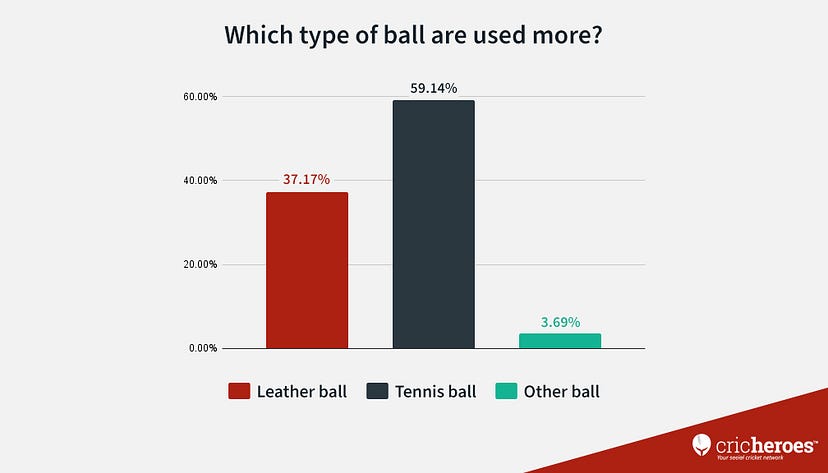 What do cricketers do after winning the toss?
Every captain hopes to win the toss but in grassroots cricket the pressure is even more because many times it's the most important job of the captain (apart from making sure everyone is on the ground on time!). You know what we are talking about right? 🙂
There could be a variety of reasons why a captain would choose to bat first and a whopping 65% of us do choose to bat first. Perhaps it's because of the childhood banter we used to throw, "Batting meri, batting meri…" till we were heard!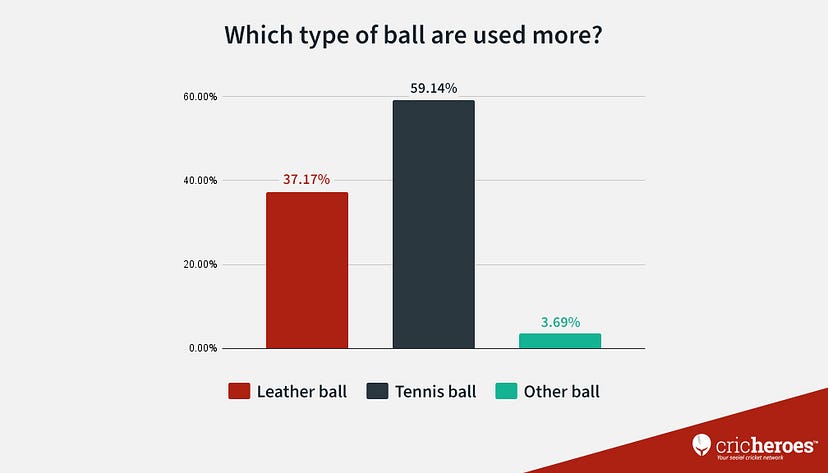 We have seen a nominal increase in the strategy of choosing to bowl first since 2019 but abhi Delhi door hai! We also have state-wise data to help you understand where your state stands.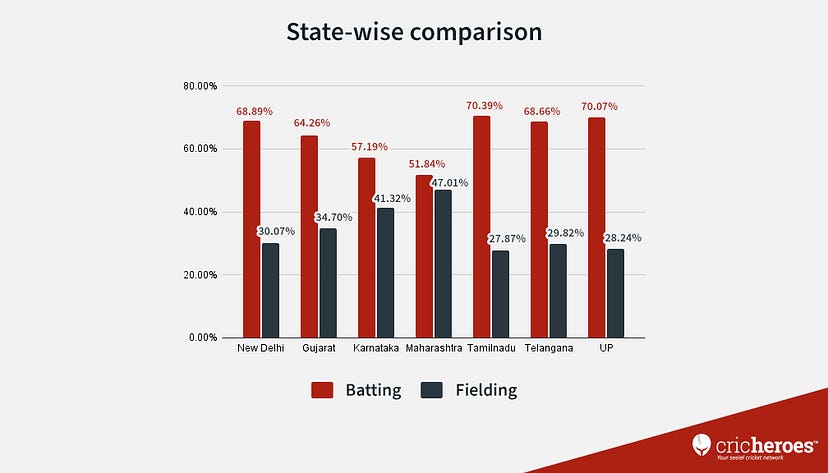 Tamil Nadu is high on batting first along with UP, Delhi and Telangana. On the bright side, Maharashtra still has a very balanced thought-process which was the same back in 2019.
Ab Batting ho ya Fielding, Toss jeete toh match jitna toh banta hai!
Right Handed vs Left Handed
The percentage of right-handed batters hasn't changed much since 2019.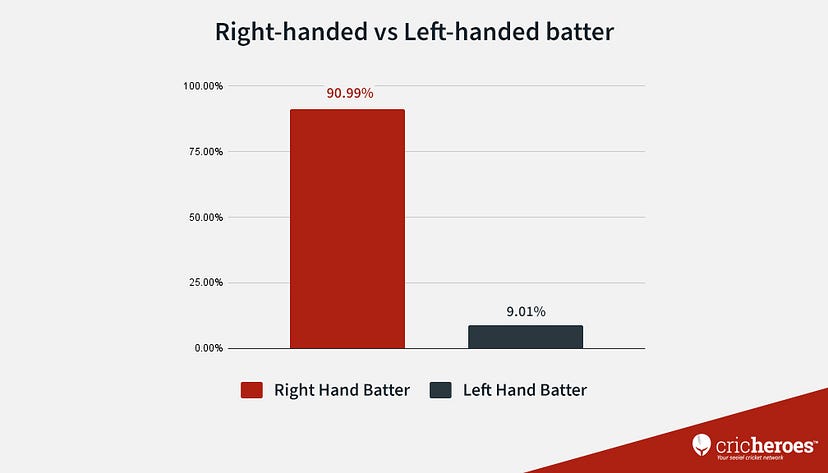 Karnataka is the state with highest right-handed batters with Telangana being a close second. We have high hopes from the left-hand batters from Gujarat to step in to make a change and finally find us our next Yuvraj Singh!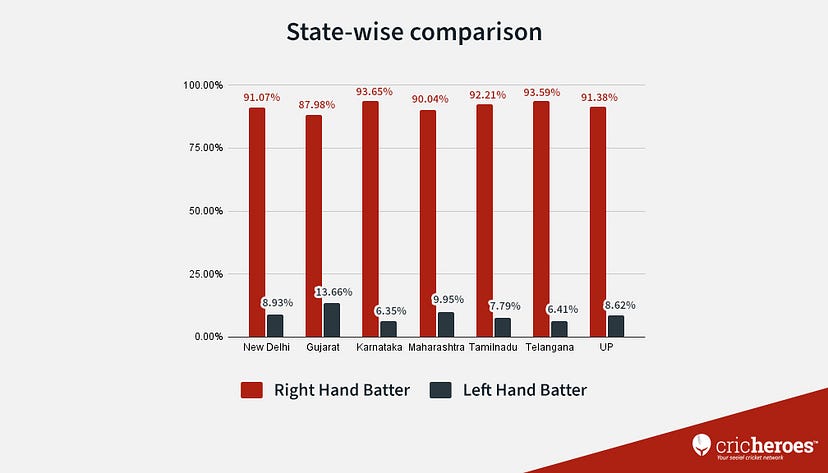 Season-wise matches
In India, irrespective of the season, we are either playing cricket or watching it! The passion for the game is unmatchable and is unconditional. Waking up in winters makes for a big task but as we can see, we absolutely love playing cricket in the winters.
Mausam acha ho toh aur kya chahiye!
Summer and Monsoon seasons have had a very close fight when it comes to playing Cricket in 2021. Covid has played a major role here as there was very little cricket being played in April and May of 2021.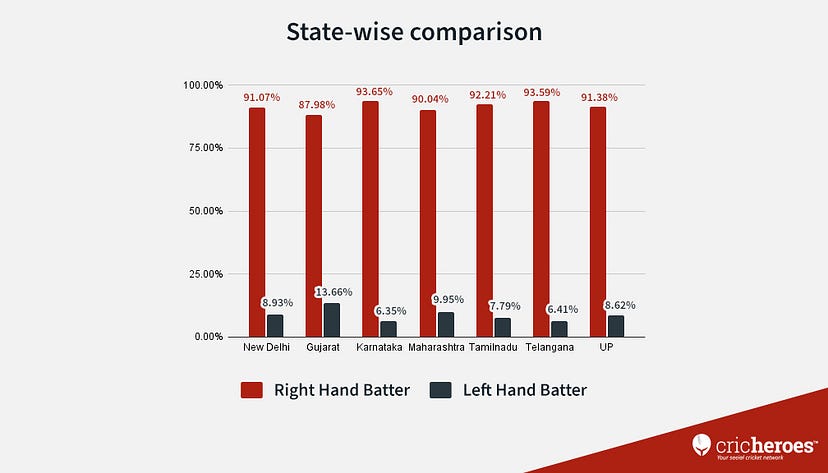 Following is a state-wise comparison of cricket played in different seasons. Some interesting patterns if you analyse the graph closely.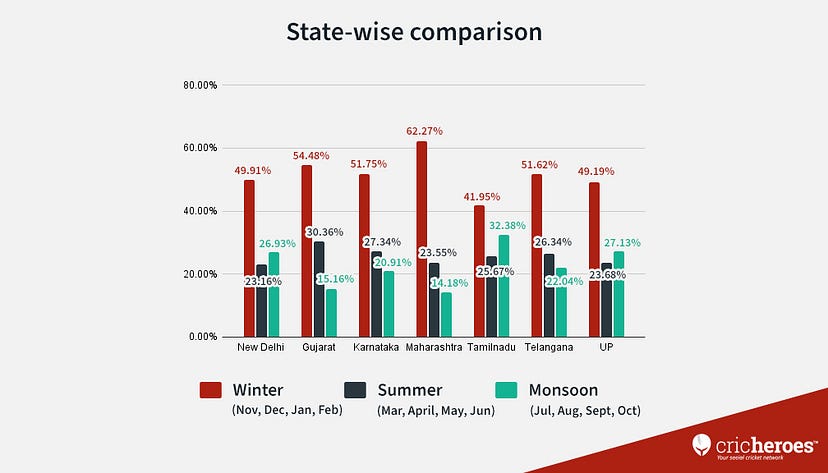 How do batters get out?
As Cricket is becoming more and more of a batters' game, taking wickets is far more crucial than it used to be.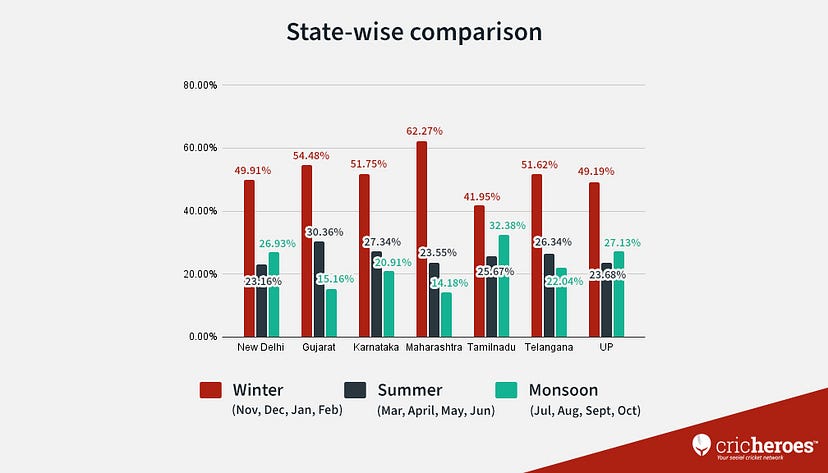 The most common one that we regularly see in International cricket and also in our grassroots game is being caught out!
Since 2019, 23,256 batters have been dismissed as Mankaded. Isn't that a big deal? Now that Mankaded has been made a fair dismissal (rightfully so), do you think it was a right decision?
1802 batters have been dismissed timed out in matches scored on CricHeroes in 2021 while we have seen 0 such dismissals in International matches. WOW!
Pace vs Spin comparison
Depending on the pitch and playing conditions, Spinners and Pacers both can have different impacts on how the game changes. In 2021, spinners have had a better economy rate than pacers in almost every state.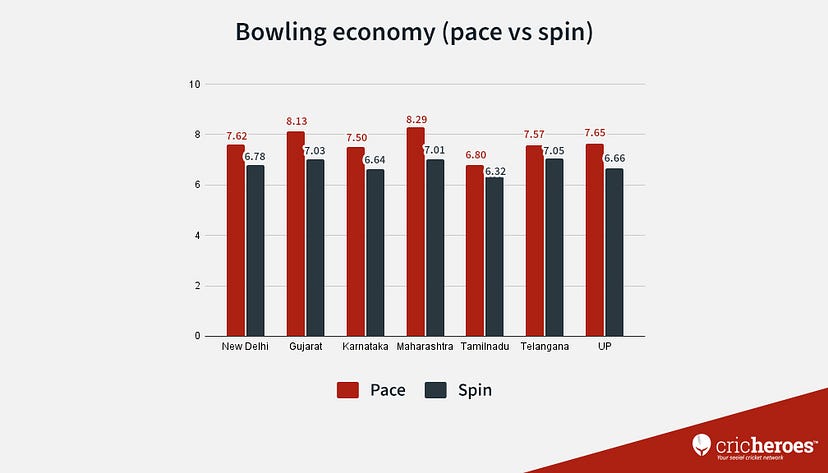 But pacers do end up taking more wickets! We believe it is mostly because in a typical grassroots cricket team, you will find more number of pacers than spinners.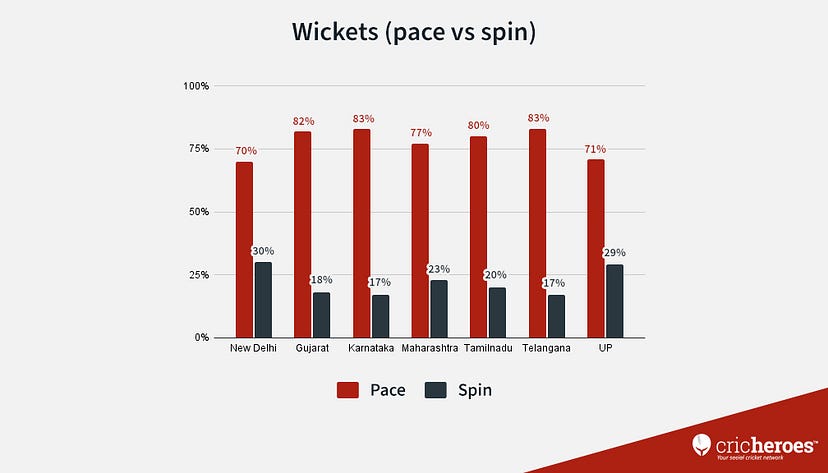 Live streaming in India
Who does not like to be on TV and become famous? And because of the IPL, the fame of cricketers have gone to a different level. Well, for those of us who are not there yet, Live Streaming may be the next best thing!
It seems cricketers of Gujarat do like to live stream their matches the most with Telangana being the second. With affordable live streaming technologies like CH Live Stream, we are sure that you will be watching more and more grassroots cricket matches live.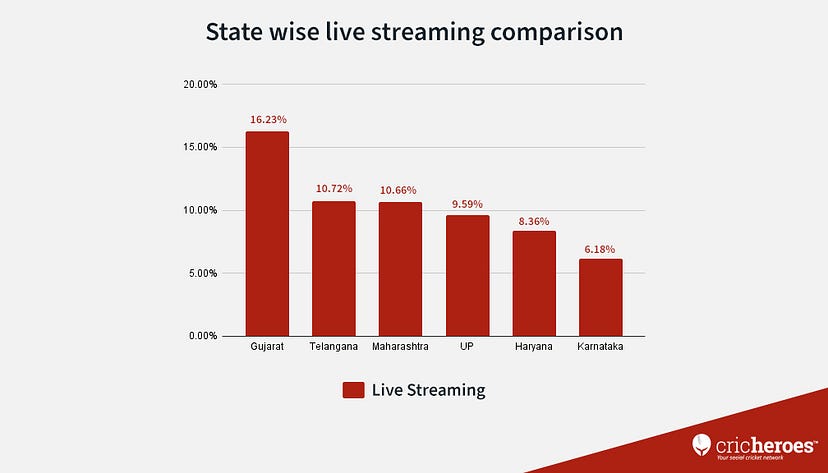 Phew, that's all folks!
Hope we were able to present well how grassroots cricket landscape has changed over the last two years. Feel free to drop in your comments about the data because we might have missed something important here!
*All Graphs are based on matches scored on the CricHeroes App in 2021.