Meet The OG Of Grassroots Cricket: 67-Years Old Cricketer Breaking Stereotypes And Countless Records
February 20, 2023
Age! What's that?
When passion meets cricket at the age of 65, that's exactly what crosses your mind.
In 1966, Mr. Jandhyala RamaKrishna aka Diehard@67 started playing grassroots cricket. Before he knew it, at the naive age of 10, cricket became his symphony.
Like several stories in the sports world, Mr. RamaKrishna too had to give up his passion for cricket and get involved in the race of life.
But as they say, life offers a second inning to everyone, how you want to play is your choice.
Mr. RamaKrishna, a Veteran Cricket Association Member in Hyderabad, took the opportunity to live his second innings. With the right push from his family and friends, our all-rounder was back on his beloved field at the age of 65.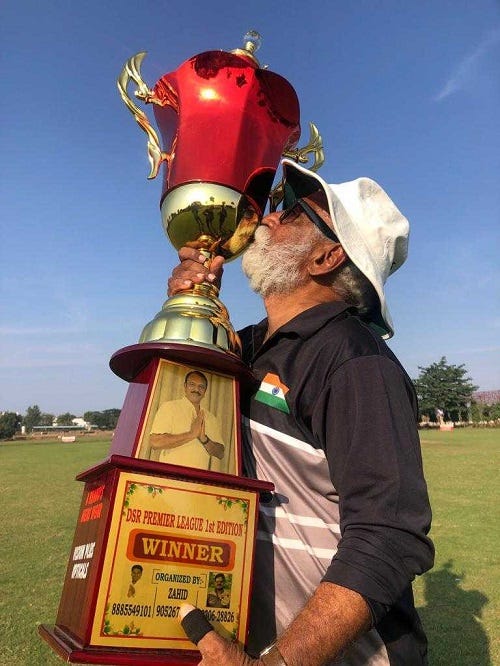 How did he manage to stay fit?
Anyone who believes age is just a number" should meet Mr. Ramakrishna. In every aspect, he epitomizes the phrase.
Mr. Ramakrishna spends a good chunk of his day working out. His daily routine is beautifully blended with cricket. All exercises and daily habits converge together to give him the right strength and stamina at his age.
You don't want to miss the OG in action.
In a recent match, he caught 2 perfect wickets. You can imagine the eyesight the man maintains at this delicate age.
And not just that, considering he is an off-spin bowler, you can find him circling the ground at least 10 times with a heavy stone in his right hand. Guess how many young kids would be motivated to do that today?
His track record in the last 2 years.
Mr. Ramakrishna is not just any cricket lover, he is a passionate cricketer. His records have a very interesting story to tell.
Our DieHard@67 has represented more than 10 teams across Hyderabad, Vijayawada, and Dubai. He has played over 460 matches and secured 698 wickets.
At age 67, it's hard to digest that Mr. RamaKrishna is a right-handed off-spin bowler. As crazy as it sounds, his bowling and fielding techniques have been responsible for several wins. Our man has bagged the best bowler on several occasions but has been recognized as the player of the match too. Unbelievable, isn't it?
Why does CricHeroes recognize him as a Hero?
Life gives us several choices and often taking the difficult path makes us nervous.
Resuming grassroots cricket at the age of 65 is not an easy decision. Trailing that path means facing uninvited stereotypes, comments, family pressure, social pressure, and becoming an easy catch for a meme(jokes were yesteryear's craze!)
Mr. Ramakrishna could be doing anything others at this age do–gardening, reading, anything at all. But he chose to play cricket, he chose his passion over all the stereotypical choices others could have made.
Moreover, he puts his mind and body completely into the game. His seriousness is visible by watching his records on CricHeroes. It's hard to find such terrific profiles and exceptional scores that don't need a separate story to exude talent and skill set.
In fact, we at CricHeroes are honored to display Mr. RamaKrishna's profile and scorecard. He stands as an inspiration to the youngsters who dream of making it big in international cricket.
Amidst breaking records; Mr. RamaKrishna surprised us by appreciating the CricHeroes scoring platform. Here are his words:
Before we wrap up, let's not forget what the Swedish actress Ingrid Bergman had to say-
"Getting old is like climbing a mountain; you get a little out of breath, but the view is much better!"
What do you think? How many of you believe that you will pursue the game of cricket even when you turn 60? And why?
Leave your answer in the comment below.