Listen to the Duck Tales — Types of Duck in Cricket!
October 6, 2022
Cricket is a popular game but the infinite jargon in the game is a tough nut to crack.
Often we hear these terms: a batter is out for a diamond duck or a golden duck. But what exactly is a diamond duck in cricket?
Does it have any resemblance to the bird?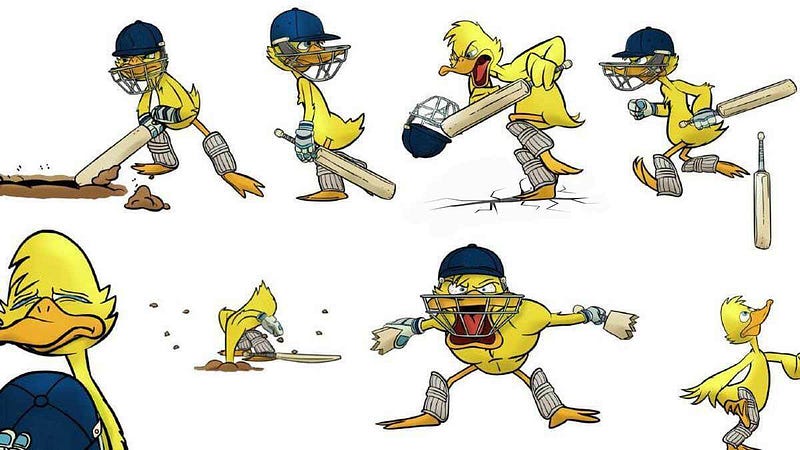 If you hear that a batter is 'out for a duck' — you might see them looking down, walking back to the pavilion. The reason is that they had to retire early to the pavilion without hitting any runs.
So let's find out how one receives a duck. Without further ado let's roll up our sleeves and start the duck tales.
What is a duck in cricket?
As the universal knowledge goes, a duck is a bird! And that's definitely no news to you.
But its existence in the game of cricket is the real mystery and we'll help you; cricket fans understand it better.
So, here's a short folklore–
When a batter is dismissed without scoring a run, it's called "out for a duck".
As per sources, the word wasn't duck originally. It was "duck's egg". Duck is just the short form of the longer phrase- "duck's egg".
The term was used way before test cricket began. The Prince of Wales, who subsequently became King Edward VII, was out for a nought on July 17, 1866. A reporter in the 'Daily Times' recording the event, published that the Prince "retired to the royal pavilion on a 'duck's egg'." And ever since then, the term duck became an integral jargon and also every cricketer's biggest nightmare.
If you notice closely, the number '0' resembles a duck's egg which is oval in shape. That's how the term duck was coined in the world of cricket.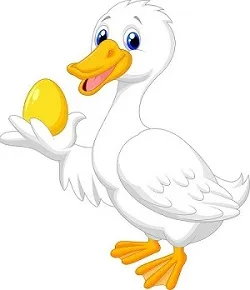 What are the different ducks in cricket?
1. Regular Duck
2. Golden Duck
3. Silver Duck
4. Bronze Duck
5. Diamond Duck
6. Titanium Duck
7. Royal Duck
8. Laughing Duck
9. Golden Goose
Regular Duck
A batter earns the regular duck when they are dismissed after having faced at least 4 balls and retired to the pavilion without making any runs.
Golden Duck
The meaning of golden duck is when a batter is out on the first ball without hitting a single run. When a batter gets out on 0(1), this is when they have earned a golden duck.
In international cricket, Lasith Malinga is known to have earned the most (13) golden ducks, trailing only Shahid Afridi (12) and Muralitharan (11). Cricketers Moin Khan and Javagal Srinath are at par with Muralitharan.
Closer home, Captain Cool–MS Dhoni was bowled for no runs in his first ODI match against Bangladesh, earning the golden duck.
Silver Duck
A batter earns the silver duck when they face 2 balls in the innings and get out without scoring a single run. This duck is another popular and recognized term in the world of cricket often used by commentators. The scoreboard reads 0(2).
In ODI cricket, Bob Woolmer from England received the very first silver duck in 1972, batting at number 10 against Australia. And Sir Don Bradman earned the most popular silver duck in the game of test cricket against England.
Bronze Duck
Similar to the above ducks, the bronze duck in cricket is presented to a batter when they face 3 deliveries and get out making zero runs. And the unkind scoreboard would read 0(3).
Former Aussie player and current Australian selector Rod Marsh was the first cricketer in history to earn the bronze duck in an ODI match, batting at number 7 at Edgbaston against England.
Diamond Duck
We're confident that most of our readers are certainly waiting for the answer to what is the diamond duck in cricket and which is one of the rarest occurrences.
If the striker is run-out of a wide ball before facing the first ball in the innings he is out for a diamond duck. In this case, the batter is stumped on a wide ball without scoring a single run and without facing a legit ball.
Diamond duck is earned by the non-striker as well. The non-striker can get run out before playing a delivery. Reaching the crease late is yet another way to earn the diamond duck.
Joel Garner, the West Indian fast bowler, was the first cricketer to receive a diamond duck against England in 1980.
Titanium Duck
Titanium is another case of diamond duck with an additional condition. The batter who gets out without facing a delivery is an opening batter.
As the situation sounds, titanium duck is an extremely rare occurrence. Until today there have been close to 17 such instances in ODI cricket and around 7 in test cricket since its introduction.
The first known case of titanium duck goes to Pakistani opener Ramiz Raja who unfortunately reached the pavilion by getting run-out and not facing a ball in the ODI against England at Kennington Oval in 1987.
Also, Check Cricket Umpire Hand Signals
Royal Duck
A royal duck is another golden duck where the openers are dismissed on the first ball of an innings.
Barry Wood, an English opener was one of the first cricketers to earn a royal duck in ODIs against England in 1976.
Even former legend and Indian opener Sunil Gavaskar was second to receive the title of royal duck in ODIs on getting caught by the wicket-keeper on the first delivery against New Zealand in 1980.
Laughing Duck
Laughing duck is another unique and fascinating case where the batter faces dismissal on the 10th wicket without scoring a run irrespective of the number of balls played.
In laughing duck, the batter only needs to get out on the last wicket for the team and even though the name is funny, this duck is not a funny moment for the batter.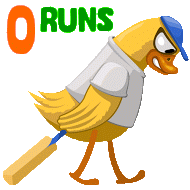 Golden Goose
Moving a little away from ducks and yet close, the Golden Goose occurs when the batter faces the first wicket in the first match of the season. How unfortunate, isn't it?
There are some more interesting facts connected to ducks which we'll cover in the FAQs.
FAQs
Who scored the most ducks in test cricket?
As per Guinness world records, Courtney Walsh from Jamaica has the dubious honor of earning the most 'ducks' in Test cricket. He scored 43 in 185 innings for the West Indies, between November 1984 and April 2001.
Which test scorer has never been out for a duck in his career?
David Gower, English cricket commentator and former cricketer is known to have the longest non-duck sprint in test cricket.
Who is nicknamed the "Bombay Duck"?
Indian cricketer Ajit Agarkar is called the Bombay Duck of India. In his 1999–2000 Tour in Australia, Agarkar created a record of 7 consecutive ducks where 4 were first balls. Damien Fleming, Brett Lee (twice), Mark Waugh, and Glenn McGrath were the wicket-takers.
Who has the most golden ducks in cricket?
Right-arm fast bowler of Sri Lanka, Lasith Malinga is famous for the most amount of golden ducks(close to 13) accumulated in his cricketing career.
What are Pairs in cricket and how is it related to ducks?
In test cricket and first-class cricket, a batter can play two innings.
A pair is a case where the batter is out for a duck(scoring no runs) in both innings.
A king pair is a situation where the batter is out for a golden duck in both innings.
So, next time if you happen to watch a live cricket match or tune into a highlight on Youtube, keep a tab on the ducks.
Tell us in the comment section how many ducks did you catch?