We Have a Clear Winner: Cricket Scoring Sheet Vs CricHeroes Online Cricket Scoring App
February 7, 2023
How many of you have come across a cricket scoring sheet? If you have, you know how complicated and tough it is to score on that sheet. Kudos to the scorekeepers who do it so well! If you haven't, then here's what you should know –
Here is a typical cricket scoring sheet template often used during cricket matches.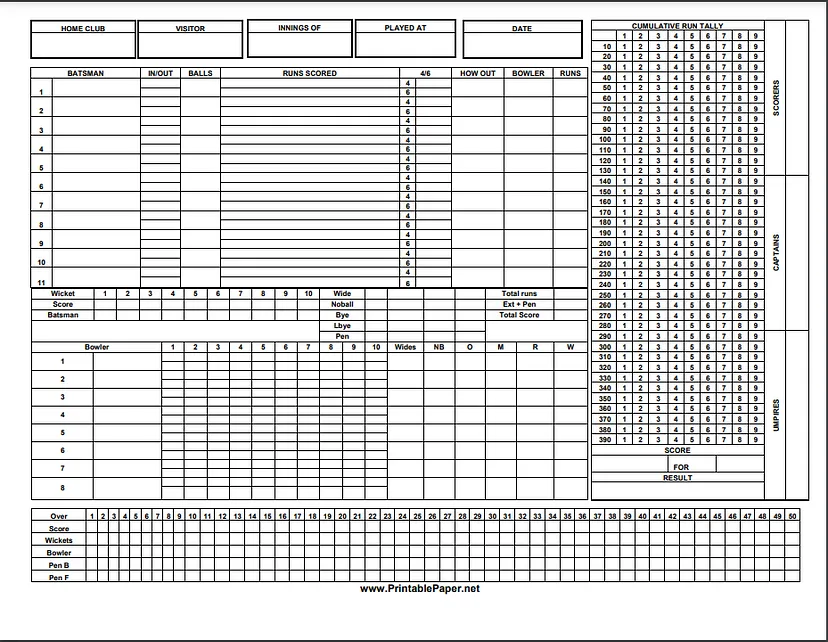 Who is responsible for the cricket scoring sheet?
As you might guess, the scoring sheet is highly valuable to the scorekeeper (an unbiased person) to record every key moment of the match.
A scorekeeper needs to attentively record the number of balls bowled and runs secured by the batter in the cricket score sheet.
Scorekeeper needs to have prior knowledge of the game and shouldn't make a mistake in calculations or data entry. Umpires and scorekeepers must tally the scores and confirm the authenticity of the cricket scoring sheet.
But cricket is much more complex than it sounds. The exceptions and rules involved make the scorekeeper's task, a bit tricky.
While following traditional methods of cricket recordkeeping is a less risky choice, there are plenty of drawbacks to it:
Paper-based tasks demand manual work, a lot of it.
Manual work results in error and duplicity
Scoring could result in misunderstanding because of handwriting.
Hard to share paper-based scoring sheets
Scoring sheet doesn't cover every minute information of the game.
When our day-to-day activities involve some or the other application that solves our needs, why not do the same for our love for the sport too?
Thankfully, CricHeroes is bringing the desired change.
Why should you ditch the cricket scoring sheet and embrace the CricHeroes app?
By now you know CricHeroes offers a sophisticated mobile-based cricket scoring app. This app tracks and presents scores of all local and grassroots cricket matches. 
But what exactly about the app convinces organizers to switch to the CricHeroes cricket scoring app?
Did you know, by using the scoring app of CricHeroes, you can experience;
Easy navigation and scoring
10x better scoring than paper-based scoresheets
Get an international-grade scorecard for all your matches.
Not just matches, but track scores of the entire tournament.
Besides scorecards, get access to advanced insights generated from match data.
Access and analyze competition scorecards.
Collaborate over scores and insights with all players, coaches, and authorities.
No paper, no scope of error, no bias.
Wouldn't you also agree this is an eco-friendly and sustainable option?
| | | | |
| --- | --- | --- | --- |
| CricHeroes in Numbers 17th OCT 2016 First Match Scored | 4130945+ MATCHES Scored so far | 239121+ TOURNAMENTS Covered so far | 18336146+ PLAYERS Registered so far |
Now let the scoring features talk for themselves.
We are confident, after learning how an online app handles scoring, you'll never wish to go back to the paper-based cricket scoring sheet again!
What are the powerful features of the CricHeroes Scoring app?
Cricket scoring on the CricHeroes app is a smooth and relatively easy process. There are a few prerequisites that one must know before recording a cricket match score.
Teams and players must create their profiles on CricHeroes.
Add two teams for scoring the match and select your squad.
Simply add a few key details like the ground, time, ball type, and the number of overs.
And then, start the toss (yes, now you don't need to carry a coin in your pocket!)
Here's a comprehensive video that gives you step-by-step guidance on cricket scoring on the app.
Now, let's get into the important features of scoring in the CricHeroes app:
Viewers get access to live cricket scores and commentary for local matches.
Get your hands on a Full scorecard showing the champions at the end of each match.
Registered matches are scored by a team owner or a team admin from either team. Or, a tournament scorer in case of a tournament.
Scorers can add number of runs (0,1,2,3,4,6 runs) and add extras(Wide, No ball,etc.) too.
Team owners/admin are allowed to edit past matches and live matches.
Match scoring can be started on the ground or in advance.
One can resume matches created in advance, paused, or switched devices.
Scorer can edit the scorecard and other elements such as the number of overs, bowler, etc.
Champions of a tournament or a match are decided by the app based on the statistics.
Scoring platform takes into account unique cases such as DLS, Retired hurt, Hit wicket, Retired out, etc.
Language isn't a barrier too. One can switch to their preferred language.
TBH, the app has a lot more to offer than what you can see here.
And more importantly, live scoring and past scorecards on the CricHeroes app play a vital role in forming a cricket strategy. Cricket teams that approach a match or a tournament strategically always start their preparations with CricHeroes statistics and insights. 
The transition from a cricket scoring sheet to an online cricket scoring app isn't as challenging as you imagine. Evaluate the uncountable advantages (also an environment-friendly choice) and the changeover would seem justifiable.
Invest in live cricket scores for your local matches and live stream the cricket match just the way you see them on TV.
And, if you are a tournament organizer, manage your entire tournament absolutely FREE!
Download the Best Online Cricket Scoring App in town!