How to Become a Good Cricketer at any age : literally age no bar!
October 13, 2022
The question of how to become a cricketer after a certain age has haunted many generations of players.
There are certain questions we all get after a particular age. Can I play cricket when I finish 12th grade? Is 25 too late to start my cricket career? Can I pursue cricket at any age? These are just a few questions that budding cricketers are usually confused about.
Well, there's no rule book to answer these questions completely. However, based on requirements quoted by international and domestic cricket boards, a few answers can be derived.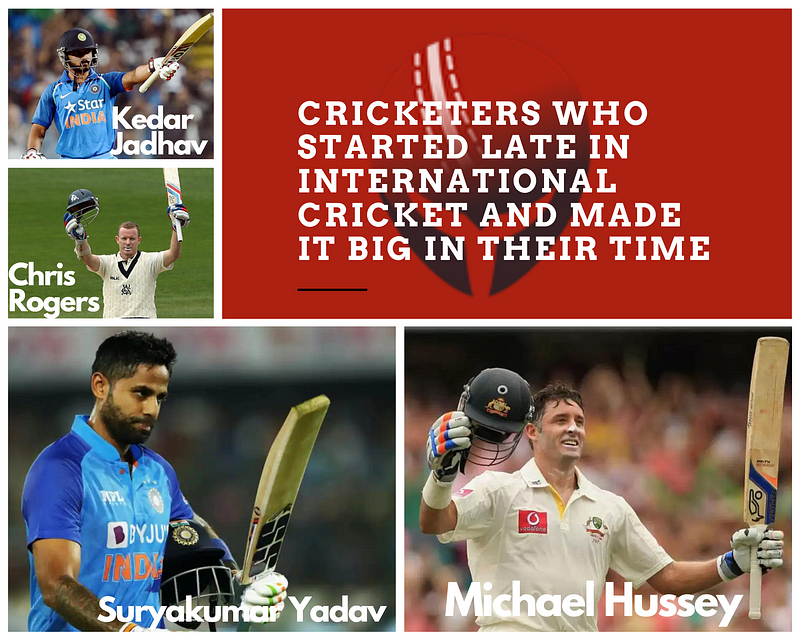 Experts stress on the importance of starting early, but passion for playing cricket can strike at any age. Your age will not matter, but preparation, physical fitness, and practice will.
Without further ado, let's discuss everything you want to know about how to become a good cricketer at any age.
Prerequisites of being a good cricketer:
Before starting preparations for professional cricket there are a few things expected from you.
Are you practicing cricket?
Just admiring the sport and following cricketers doesn't make you a player. The first thing expected of you is to start practicing the game by yourself well enough to know the intricacies of the game
Do you have a foundational knowledge of the game?
Practicing and following the game will brush up your knowledge of cricket rules and regulations. Often, you'll come across jargons that are unknown to you. This is when you can seek help from a mentor or simply look it up online.,
What is your strong foot in the game?
At an early age, the mind wanders and doesn't give a definite answer; yet kids can start identifying their interest areas. As you get better and reach a certain age of maturity (in 15–17 years of age), identifying your stronghold is easier and you can start fine-tuning it. Let's say, you are good at batting; then learn to handle different forms of deliveries, defensive moves, and playing with a hard ball.
You can read Three ways to improve your batting strike rate
Do you watch cricket and follow all matches?
Following the game on TV or online from an early age is possible and much easier these days. Observers can learn a great deal from watching international players playing under strict rules and regulations and tremendous pressure.
A Simple Step-by-Step Guide on How to Become a Cricketer
Join a Cricket Academy
Once you know you love the sport and want to pursue it professionally, the next step should be to search for a suitable cricket academy in your locality. You can find plenty of details and reviews online to help you select the right academy to hone your skills.
Find the Right Coach
Getting in a good academy won't matter if you don't find a right coach. An academy is home to several aspiring players like you. Finding a coach within or outside the academy will ensure undivided attention and knowledge. A coach is an experienced sportsperson (often ex-cricket player) who not only guides you but pushes you to find your inner strengths. One benefit of tagging along a good coach is also to stay up to date with new tournaments and get noticed by selectors.
Join a Professional Team
Every opportunity at this stage is essential. Starting at the school level and then joining private clubs could prove to be beneficial. So, joining a cricket club or team should be on your list.
Let's make your search easier with Cricheroes' Looking For search portal. It's as simple as the name sounds. Find all the latest and upcoming cricket events-tournaments, matches, and teams–around you or in a nearby location. So, did you find what you are Looking For?
Start Playing Tournaments
Eventually, you'll start getting more options to play in tournaments. There are several tournaments for aspiring players from the age of 15 years. Getting selected in Under-14, Under-16, Under-19 or Ranji can turn out to be the best decision before making it to the A-team.
It's now easier to learn about tournaments on Cricheroes. You can catch all the updates on upcoming and past cricket tournaments here.
Work on Your Physique to Become a Cricketer
Physical fitness is a primary requirement. Players like Virat Kohli take their fitness regime extremely seriously and refuse to compromise whatsoever. Cricketers spend a huge chunk of their day running, exercising, playing other sports like football, and hitting the gym (when the schedule allows). These efforts show their results in the long run and also extend a cricketer's career.
Believe You Can Make it!
There's no failure as big as giving up mid-way. Failures and disappointments in cricket are part and parcel of the daily grind. No one, not even M.S. Dhoni could escape it.
What you do after a disappointing match is what matters–whether you break or stand tall after losing a match, will decide your destiny.
Players should always aim higher and keep working towards it.
FAQs on How to become a Cricketer
Q. How do I start a cricket career?
There are a few things to focus on when you start a career in cricket.
Ensure you enjoy the sport
Identify what you are good at (bowling, batting, wicketkeeping, etc.)
Watch cricket religiously
Have access to the right equipment
Join an academy and identify a coach early on
Maintain physical fitness
Identify and participate in domestic competitions
Hustle to get noticed by selectors and authorities
"Don't wait for the right opportunity,create it."– George Bernard Shaw
Q. How to become a cricketer at the age of 14 to 16?
The age between 14 to 16 is an apt age for beginners. The majority of preparation points we discussed in this article and the above FAQ will be applicable in this case.
One additional suggestion would be to keep an eye out for selections in Under-14 and Under-16 tournaments. Enrolling in a good academy and getting supervised by a coach will be crucial at this age.
Q. How to Become a Cricketer At The Age of 17 and 18?
At this age, budding cricketers must start specializing in one of their talents. For example, if they are good at bowling, then working on the bowling speed and accuracy level would be beneficial. Getting accustomed to the correct size of the equipment, full-size cricket pitch, and long formats of the game will be a plus point. By equipment we mean, the players should be able to handle full-size bats and safety gear. Additionally, be ready to get noticed in Under-19 tournaments.
If you start playing cricket at 17 or 18 years of age, the only drawback is your missing records and the chances of playing in limited tournaments before you make it to the bigger podiums. And unless you are exceptional, the physical stamina and skill development in comparison to an early starter can put you a point or two behind.
But as they say, it's never too late if you are passionate, hard-working, and talented.
Q. How to become a cricketer at the age of 20 to 25?
Even if you start at the age of 20 or 25, the preparation will be the same as you read in the above segments of the article. Many talented players got a break into international cricket at this age. You can start preparations for multiple tournaments such as district-level matches, CK Nayudu trophy, Ranji trophy, IPL, and much more. If your scores are outstanding you may get selected to Indian Team A, B, or C, and debut in International cricket after a few years.
However, to increase your chances of making it big in cricket, starting early will give you an edge over other players.
Q. Can I become a cricketer after the 12th standard?
Many successful players started playing cricket at an early age. However, this doesn't rule out the chances of acing the sport at the age of 17 or 18 which is the standard age one completes their 12th board.
Q. Which age is best to become a cricketer?
There's no early or late age to start cricket. However, getting into a professional academy environment between the age of 9 and 11 years is highly recommended by experts. Virat Kohli started playing cricket at an early age of 9 years and Master Blaster Sachin Tendulkar started playing at 11 years and got selected to the first-class team at the age of 16 years as India's youngest Test (International) cricketer, against Pakistan in Karachi in November 1989.
Don't forget to listen to Indian Cricketer and Skipper Rohit Sharma's decision to enter cricket at an early age.
Q. What are the qualification requirementsto become a cricketer?
There are no qualifications to become a cricketer. Having said that, getting trained in an academy is always a good idea for players seeing a long-term career in the sport.
Q. How to become a cricketer without an academy?
If you are unable to join an academy, join a local cricket team in your school or community, get closer to high-skilled players in your network, watch cricket like a maniac (learn the rules of the game) and get access to the best equipment. And most importantly, practice like it's nobody's business!
Q. Should I leave my studies for cricket?
No, cricket doesn't need you to leave your studies. Most players keep pursuing their studies on the side to create a safety net just in case cricket doesn't work out.
Q. Is becoming a cricketer risky?
No profession is free of risks. Only the intensity may vary (ask your life insurance guy to point out your professional risk quotient).
Yet, according to us, failure is the biggest risk in cricket. And apart from failure, injuries get counted as risks but with quality training and physical strength, they can be somewhat mitigated.
Q. Is becoming a cricketer easy?
We intentionally left this question for the last.
Someone has rightly quoted, "Success is not easy and is certainly not for the lazy."
When you aim high, nothing in life comes easy and everyone makes their share of sacrifices. The world of cricket is the same. However, the pride and incentives of representing your nation triumph over all the difficult moments in your journey.
Now it's your turn to share your opinion on this topic. According to you, what is the ideal age for a budding player to start pursuing professional cricket and why?
Drop your answers in the comments section!