Heroes of October: Grassroot Cricketers Who Ruled the Cricket Field
November 9, 2023
Cricket is a sport that millions of people around the world love to play or to watch. It's not just about the famous players and the big tournaments. It's also about the cricketers who play in their local communities. These talented cricketers need the same amount of recognition just like any other International cricketer.
At CricHeroes, recognition is one of the main objectives of our company. This is also our responsibility because we truly believe there can never be enough ways to recognise someone in cricket. 
In October, there were a lot of great achievements by these heroes. These achievements show how dedicated, skilled, and passionate they are about the game. Let's dive in and see more about their achievements.
Nitesh Lohchab: The Centurion Extraordinaire
From the bustling streets of New Delhi emerged Nitesh Lohchab, a batter who redefined the term "centurion." Lohchab's October was nothing short of extraordinary, as he smashed an astonishing eight centuries, leaving a trail of awestruck bowlers and fans in his wake. His batting prowess was on full display as he consistently plundered runs, leading his team to numerous victories.

Lohchab's record-breaking performance is a testament to his unwavering determination and love for the game.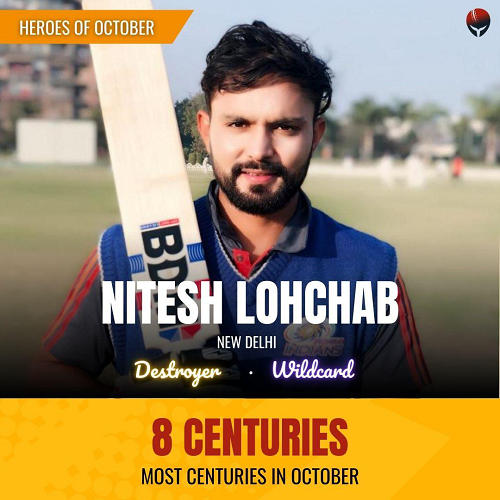 Check out the full profile on CricHeroes: Click Here
Also, Read How do we tag batters and bowlers on CricHeroes?
Vaneet Mittal: A Century of Centuries
In the heart of Pune, a true centurion emerged – Vaneet Mittal. With unwavering dedication and a passion for the game, Mittal achieved a remarkable milestone, completing a staggering 50 centuries in his cricketing career. His batting elegance and ability to consistently score big runs have earned him immense respect and admiration.
Mittal's achievements serve as an inspiration to aspiring cricketers, demonstrating that with perseverance and passion, anything is possible.
Check out the full profile on CricHeroes: Click Here
Ashu: The Half-Century Maestro
From the plains of Sonipat, a half-century maestro emerged – Ashu. With remarkable consistency, Ashu completed a remarkable 100 half-centuries in his cricketing journey. His ability to build partnerships, rotate the strike, and consistently contribute to his team's success has made him a valuable asset to his side. Ashu's achievements are a testament to his hard work, dedication, and understanding of the game.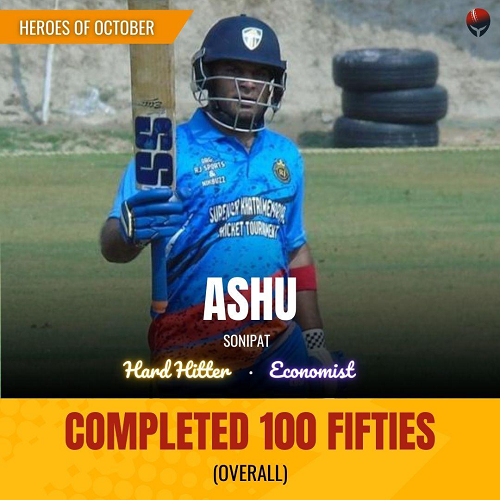 Check out the full profile on CricHeroes: Click Here
Mayank Aravind: The Wicket-Taker
In the pursuit of wickets, Mayank Aravind has become a true wicket taker. With his fiery bowling, he has completed an impressive 100 three-wicket hauls in his career. Aravind's ability to turn the game with crucial wickets and break crucial partnerships has made him a menace for opposing batter. His achievements are a testament to his skill, accuracy, and relentless pursuit of excellence.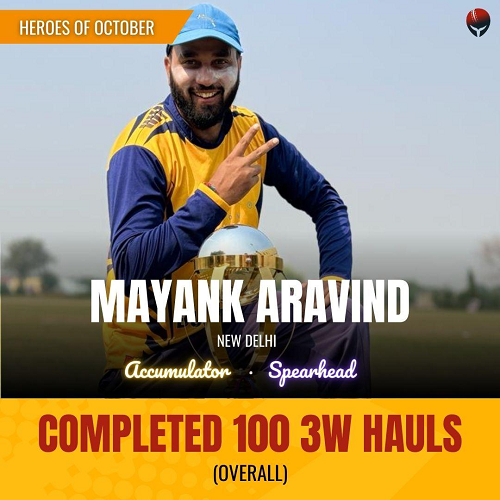 Check out the full profile on CricHeroes: Click Here
Ours Cricket Club: The Unbreakable Record Breakers
From the cricketing grounds of Gurugram emerged a team that defied all expectations – Ours Cricket Club. With an astonishing streak of 30 consecutive victories, they etched their name in the history books as the uncrowned champions of leather-ball cricket. Their unwavering spirit, team performance, and strategic brilliance have made them a force to be reckoned with. Their achievements serve as a reminder that with determination, unity, and a love for the game, even the most challenging goals can be achieved.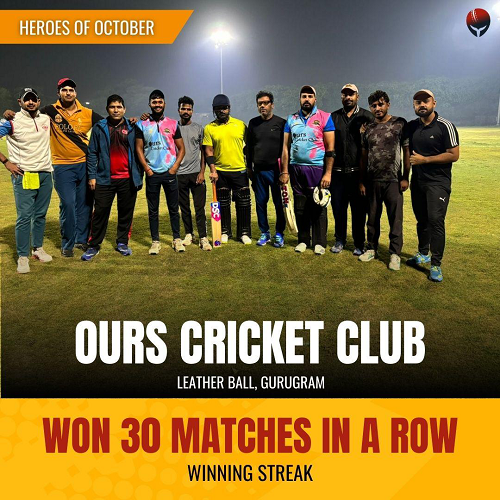 Check out the full profile on CricHeroes: Click Here
These remarkable individuals, from Nitesh Lohchab's centurion feats to Ours Cricket Club's unbreakable record, are a testament to the power of passion, dedication, and teamwork. Their stories inspire us to strive for greatness and never give up on our dreams.
As we celebrate these heroes of October, remember that this true spirit of cricket lies in the grace with which these players play and how much it matters to us.
You matter, along with how your cricket matters to us.